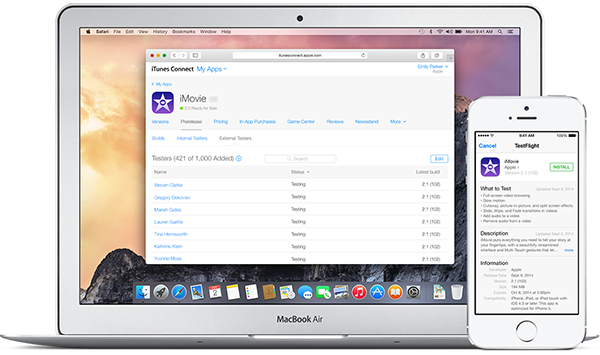 Apple opens up its TestFlight Beta Testing
Apple is giving developers the ability to invite up to 1,000 beta testers to try out their iOS 8 apps before releasing them to the App Store. The company has released its TestFlight Beta testing service to the public.
"You can now invite up to 1,000 testers to beta test your iOS apps by simply sending them an email invitation through iTunes Connect. Once they accept your invitation, testers can install your beta app on their iOS devices, get updated builds, and provide feedback, all within the TestFlight app. Learn more about TestFlight," the company announced on its website.
More information is available here.
EFF re-launches its Surveillance Self-Defense guide
In an effort to make it easier to defend yourself and your friends from digital surveillance, the Electronic Frontier Foundation has re-released Surveillance Self-Defense (SSD). SSD is the organization's guide to using encryption tools and developing appropriate privacy and security practices.
"In creating the new SSD, we seek to help users of technology understand for themselves the threats they face and use technology to fight back against them. These resources are intended to inspire better-informed conversations and decision-making about digital security in privacy, resulting in a stronger uptake of best practices, and the spread of vital awareness among our many constituents," Jillian York, director for international freedom of expression at EFF, wrote on the organization's blog.
More information is available here.