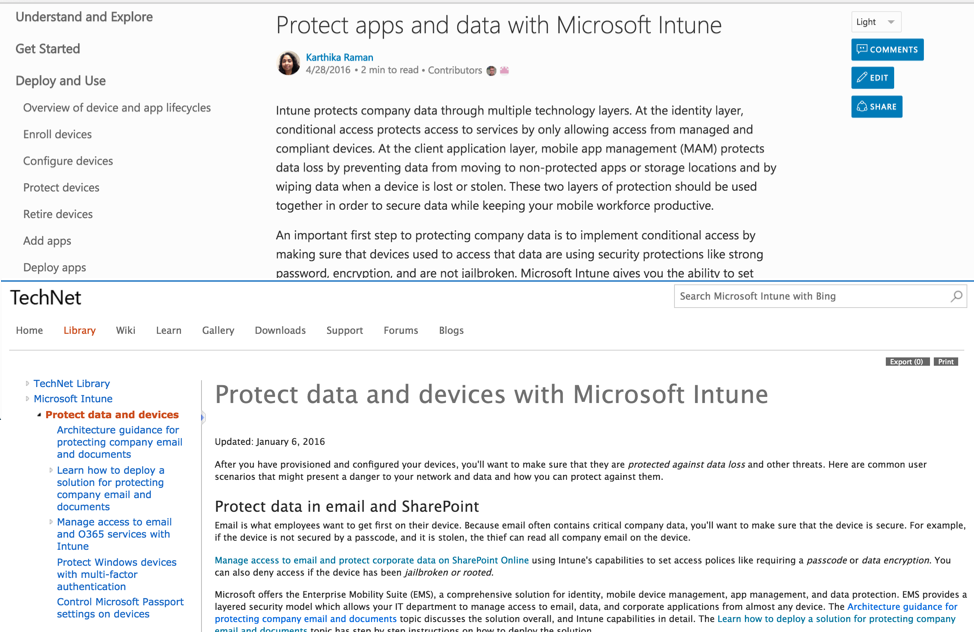 To help developers and IT professionals find technical content that will help them with deploying services and developing applications, Microsoft announced the preview release of its new documentation services, docs.microsoft.com, which displays content supporting Microsoft's Enterprise Mobility products.
Part of the decision to create a new website for content came from reviewing the existing content infrastructure of TechNet and MSDN. Both of the codebases of these sites were old and unable to run on the cloud, according to a Microsoft blog post by Jeff Sandquist, general manager of Microsoft's cloud and enterprise team. So, the team started from scratch to create a modern website with relevant content.
(Related: Microsoft offers Flow SaaS solution)
Currently, the preview release of the website only includes content for Enterprise Mobility Documentation, which consists of Advanced Threat Analytics, Azure Active Directory, Azure Remote App, Multi-factor Authentication, Azure Rights Management, Intune, and Microsoft Identity Manager. According to the company, the platform will migrate more of its documentation into this website in the near future.
Some of the features of the website include content readability. It has set content width to improve reading speed for users, and Microsoft has also increased the font size for the left navigation and the text itself, which customers have been asking for, according to feedback on UserVoice. Microsoft also provides an estimated reading time for each article, so users know how much time commitment is involved. Date stamps on content are also included, so customers will know how "fresh" content is, according to the blog.
Taking notes from other customer feedback, Microsoft made improvements to the site navigation, information architecture and content organization based on the customers' intent, according to the blog. Content is also refactored into logical groupings around evaluating, starting, planning, deploying, managing, or troubleshooting products and services.
Other features include community contributions, and since the documentation is open source, it makes it easy for contributors to get involved, according to the blog. Feedback mechanisms, social sharing buttons and friendly URLs are all included in the documentation.
Customers can review the preview version at and send feedback to Microsoft.