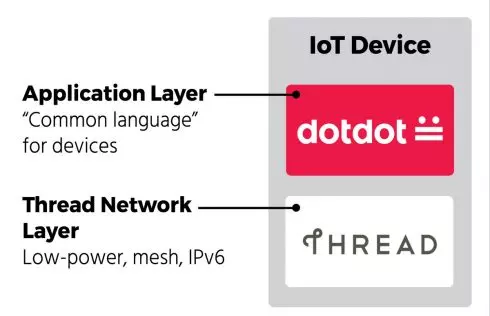 The Zigbee Alliance and Thread Group have announced the availability of the Dotdot specification over Thread's IP network. Dotdot is the Zigbee Alliance's IoT language that enables smart objects to work on any network, while Thread is an open networking technology for IoT products.
"The Thread Group's vision is to extend IP – the powerful foundation of the Internet – to low-power IoT devices," said Grant Erickson, president of the Thread Group. "Just like the internet, this vision also requires the industry to put forth open, common protocols so devices from any vendor can work together. Dotdot gives Thread adopters an important option for that open, end-to-end connectivity and interoperability."
InfluxData will be helping organizations maximize the ROI of their IoT applications
InfluxData has announced it will be working with organizations to maximize the ROI of their IoT applications.  Its Modern IoT Data Platform provides streaming analytics, data storage, data aggregation, and data visualization.
"With nearly every available surface in the material world a candidate for instrumentation – metrics, events, and other time-based data are being generated at an exponential rate, establishing a growing requirement for analyzing today's complex environments to leverage this data for improved systems and customer service," said Tim Hall, VP of Products at InfluxData. "The InfluxData Platform provides the industry's only comprehensive set of tools and services to uniquely accumulate metrics and events data, analyze the data, and act on the data via powerful visualizations and notifications to best serve customers' diverse IoT data needs."
Topcoder launches Hybrid Crowd
Topcoder has launched Hybrid Crowd, which is an extension of the Topcoder platform that allows enterprises to crowdsource work to communities. Topcoder has a 1.2 million member community, which can be combined with the existing talent within organizations. The platform will allow enterprises to leverage public, certified, and private crowdsourcing communities.
"Freelancers and salaried employees are often thought of as separate entities, and Hybrid Crowd twists that narrative by combining the efforts of both groups to further increase productivity and speed," said Mike Morris, CEO, Topcoder. "Hybrid Crowd represents a shift from a push to a pull model of work, whereby workers are allowed to self-select opportunities to contribute to projects that fit their interests, expertise, and availability."
SmartBear announces CrossBrowserTesting will now integrate with Applitools
SmartBear has announced its CrossBrowserTesting web testing platform will integrate with Applitools. This integration will allow for shorter test cycles and improved end-user experience. CrossBrowserTesting customers are now able to seamlessly integrate its capabilities with Applitools by subscribing to Applitools Visual Testing Service.
"By combining the power of the advanced visual testing capabilities of Applitools with the largest remote browser and device testing platform of CrossBrowserTesting, we're able to offer the first codeless automated visual testing solution," said Ryan Lloyd, VP of Products, Test and Development at SmartBear. "This enables teams of all technical skill levels to be able to run visual tests quickly across browsers and platforms."