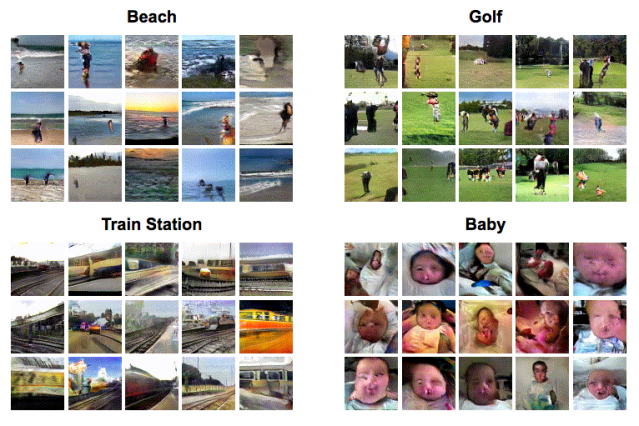 Humans are able to understand their surroundings without much thought, but teaching machines to predict future actions can be challenging for researchers. MIT's Computer Science and Artificial Intelligence Laboratory (CSAIL) have made advancements recently to tackle this.
CSAIL researchers have developed a deep learning algorithm that can create a brief video that simulates the future of that scene. It is able to do this by taking a still image from a scene, according to a blog post written by MIT communications and media relations officer Adam Conner-Simons.
The algorithm is trained on 2 million unlabeled videos that include a year's worth of footage, and the algorithm can generate videos that humans deemed to be realistic 20% more often than a baseline model, wrote Conner-Simons.
Future versions, according to the research team, could be used to improve security tactics and safer self-driving cars. And according to CSAIL Ph.D. student Carl Vondrick, "The algorithm can also help machines recognize people's activities without expensive human annotations," wrote Conner-Simons.
New design mode for Firefox developer tools
Firefox Developer Tools received a completely redesigned Responsive Design Mode (RDM) that makes it easier for developers to build web experiences that load and respond on screens of all sizes, browsers and platforms.
RDM is an upgrade for Firefox tools, and it aims to help developers looking to deliver experiences for web apps that work across a range of devices. To access the RDM tool, developers need to run an up-to-date version of the Developer Edition.
Some of the new features include popular device emulation, network throttling, touch-event emulation, and the ability to set device pixel ratios. Firefox Developer Tools has a series of improvements already planned for the next release of RDM.
Technavio finds global VRD market will grow
According to a report by Technavio, the global vertical retinal display (VRD) market is expected to grow at a compound annual growth rate of of 3.51% through 2020.
To calculate market size, the report considered revenue generated from the shipment of VRD devices for virtual reality and augmented reality applications. The report found that the Americas accounted for almost 92% of the global VRD market in 2016, followed by Europe, the Middle East and Africa with 5.2%. The U.S. is the leading country in the region, followed by Canada, but the U.S. is expected to remain a leader because of companies like Magic Leap and MicroVision, as well as Avegant.
"The Americas is also one of the earliest adopters of AR, and there are a number of apps being developed for iOS and Android," said Sunil Kumar Singh, a lead analyst at Technavio. "This gives good potential for VRD technology providers such as MicroVision to penetrate the Americas."
A sample report can be requested here.