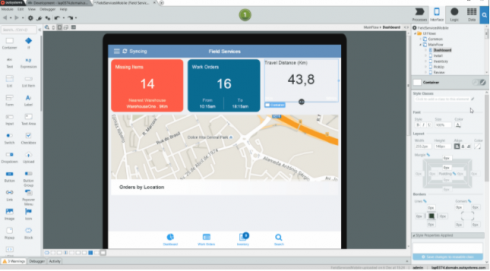 OutSystems has announced a new style editor in its development environment. This is the sixth release it has put out for its development environment in the fourth quarter. The editor allows developers to create UX without the need for CSS.
"Our developer community has grown by more than 60 percent over the last six months," said Mário Araújo, head of developer relations at OutSystems. "We consider developers our extended team, and we obsess over how to make things easier for them. Every time we release a feature that simplifies development and reduces ramp-up time for new developers, we know we're contributing to their productivity. Best of all, we're helping them deliver value to the business."
Google adds Community Connectors to Data Studio
Google has added a new feature to its Data Studio called Community Connectors. Community Connectors allows developers to use Apps Script to build connectors to internet accessible data sources. Community Connectors makes it possible to leverages Data Studio as a reporting platform, reach a larger audience, and develop customized enterprise solutions for business.
PostgreSQL is named DBMS of the Year 2017
PostgreSQL was determined to be the DBMS of the Year 2017 based on DBMS Engines. DBMS Engines is database management system information provider. The DBMS of the year is based off popularity from January 2017 to 2018. PostgreSQL was in third place last year, but gained 55.81 scoring points in 2017, an improvement of 17 percent. The release of PostgreSQL 10 may have helped to stimulate interest in the product, said the company. Elasticsearch came in second and MariaDB was third.
"The PostgreSQL community sincerely thanks our users for the continued rapid adoption of PostgreSQL," said Jonathan S. Katz, director of the United States PostgreSQL Association. "We will keep innovating and producing features to ensure our users have a wonderful experience using our platform and the entire PostgreSQL software ecosystem."
Nissan develops brain-to-vehicle technology to speed up reaction times for drivers
Nissan has unveiled research that will allow vehicles to interpret signals from a driver's brain. Brain-to-vehicle technology allows the system to take actions 0.2 to 0.5 seconds faster than the driver, speeding up reaction times. Nissan will be demonstrating this technology at CES 2018.
"When most people think about autonomous driving, they have a very impersonal vision of the future, where humans relinquish control to the machines. Yet B2V technology does the opposite, by using signals from their own brain to make the drive even more exciting and enjoyable," said Nissan executive vice president Daniele Schillaci. "Through Nissan Intelligent Mobility, we are moving people to a better world by delivering more autonomy, more electrification and more connectivity."