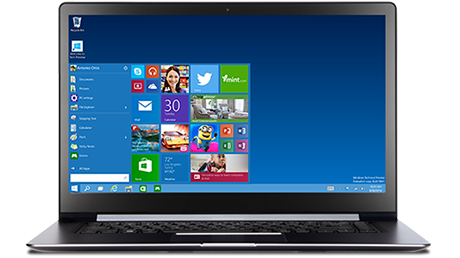 Microsoft has weathered the storm of Windows 8 criticism for more than two years, amid a tectonic shift away from desktop computing. Windows 10 is the company's life raft, or at least that's what it's perceived to be. The truth is, as important as Windows 10 is to Microsoft's future, the company's flagship product is no longer its solely critical one.
Satya Nadella seizes every opportunity to remind us that Microsoft is a "mobile-first, cloud-first" company now. He means it. Nadella made his bones in the cloud, and under his reign Microsoft is integrating more and more products with Azure as the cloud platform and ecosystem continues to expand.
The company isn't giving up on mobile either, riding a gradual uptick in Windows Phone market share and making products like Office available cross-platform, along with its relentless ad campaign for the Surface line of tablets. Microsoft is placing its eggs in many different, diverse baskets.
(Related: Microsoft unveils Windows 10)
That said, Windows 10 must be a success if Microsoft has any hope of retaining or ultimately growing its share of the desktop market. In achieving the complex task of marrying the features and design of Windows 7 and 8—botched spectacularly in Windows 8.1—early reactions indicate Windows 10 strikes a more balanced mix of traditional left-hand and start bar navigation and live tile functionality. Yet Micro­soft's smartest move thus far with its first double-digit OS was targeting it squarely at its core customers: developers and the enterprise, giving them access early and often to ensure a better quality product.
Is all that combined with wide Windows 10 adoption enough to put Microsoft back on top of the PC market and halt the desktop skid? Probably not. Mobile and cloud are the new frontier, and Microsoft is keenly aware of that. Windows may still define Microsoft's image, but Windows 10 is indicative of a changing direction for the company's core business.
Microsoft's grand vision is an integrated software ecosystem across mobile devices, desktop and the cloud. Windows 10 is just the front man.