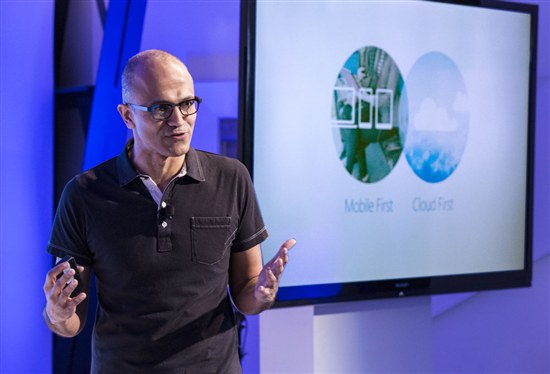 A change at the top, followed by a clearly defined focus, with an all-out embrace of open technologies and an increased update release cycle. Throw in a further commitment to consumer devices for good measure.
One could argue that 2014 was the year of Microsoft. Or, at least, the year it remade itself. But it needs to be careful to not alienate a big part of its user base. I'll explain in a bit.
Former CEO Steve Ballmer was loud and bombastic, growing the company from US$21 billion in revenue in 2000, when he succeeded Bill Gates at the helm, to a $77 billion business when he left earlier this year. He recognized the value of the cloud and had the company roll out Windows Azure in 2010. He grew the company's business software revenues more than 300% over that same time.
The company, though, fumbled two big matzo balls with its blind adherence to Windows, and its failure to assess and execute in the mobile market.
In February, the torch was passed to Satya Nadella, who brings the best of both Gates (technical genius) and Ballmer (business acumen) to the role of CEO. One of his first acts was to declare the Microsoft's focus would be on a "cloud-first, mobile-first world."
And the company followed up on that with releases of Visual Studio Online, Team Foundation Server in the cloud, and Office 365, which moved SharePoint, Exchange, Lync and more off dedicated servers and into the cloud. The year also saw important updates to Azure and the company's smartphone platform.
Yet the biggest shift in direction (which, in fairness, began during Ballmer's tenure) was the embrace of open source. In November, the company released .NET Core to open source, its most significant contribution of technology to date. It was also the move that has made the software development world finally believe that Microsoft wants to play well with others, and is no longer the evil Lord of Lock-in. (Or is it?)
Even more, Microsoft finally publicly admitted that it realizes the entire world does not run on Windows (and that it never will) by making its Office business productivity suite available on Android, iOS and Mac OS devices. The move clearly marks a dramatic shift, where the company will rely less on revenue from its operating system than it will from its business software, which itself is a multi-billion-dollar revenue stream.