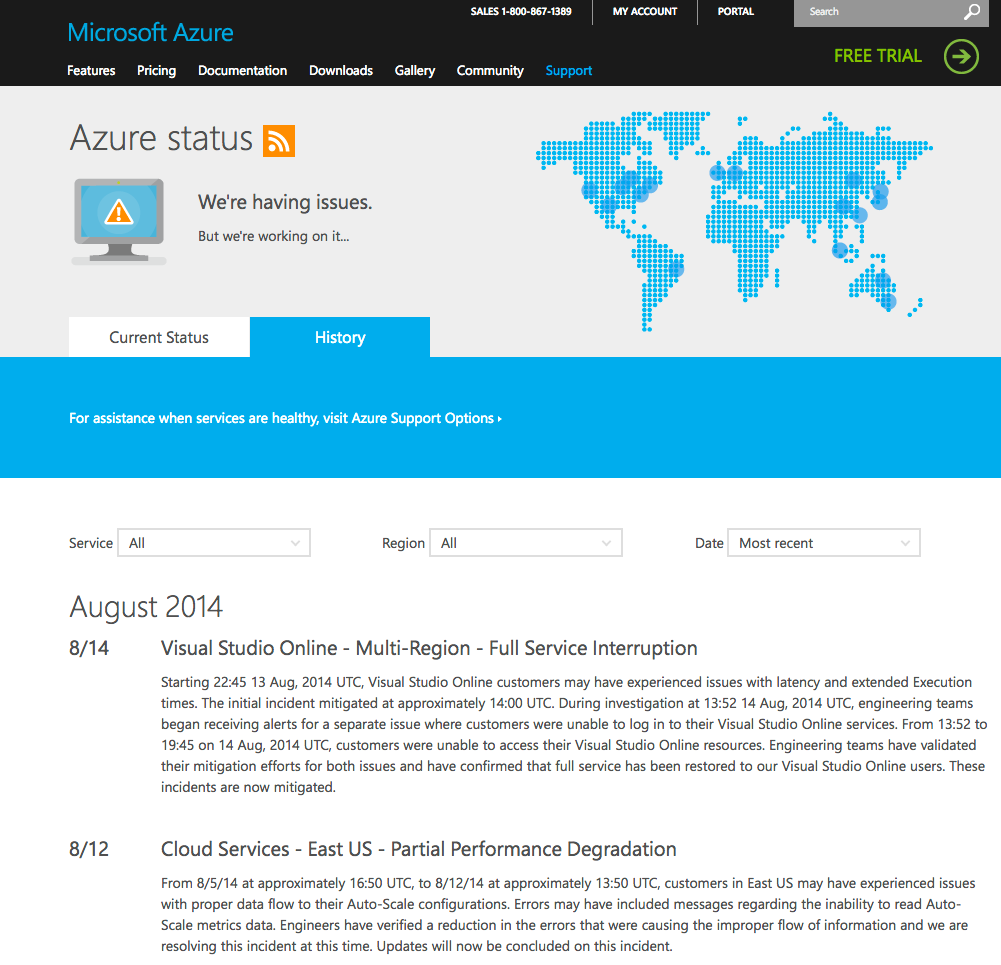 Cloud-based development tools are great. Wonderful. Convenient. You may access your cloud-based IDE, your cloud-based code repository, your cloud-based storage, your cloud-based test suite from anywhere, perhaps through a browser, perhaps from a thin client. Log in, choose your project, off you go.
Except when it doesn't work.
I don't know if you were affected by Microsoft's Azure service outage on Thursday, August 14. As of my deadline, services had been offline for nearly six hours. On its status page, Microsoft was reporting:
Visual Studio Online – Multi-Region – Full Service Interruption
Starting 22:45 13 Aug, 2014 UTC, Visual Studio Online customers may have experienced issues with latency and extended Execution times. The initial incident mitigated at approximately 14:00 UTC. During investigation at 13:52 14 Aug, 2014 UTC, engineering teams began receiving alerts for a separate issue where customers were unable to log in to their Visual Studio Online services. From 13:52 to 19:45 on 14 Aug, 2014 UTC, customers were unable to access their Visual Studio Online resources. Engineering teams have validated their mitigation efforts for both issues and have confirmed that full service has been restored to our Visual Studio Online users. These incidents are now mitigated.
My goal here isn't to throw Microsoft under the bus. Azure has been quite stable, and other cloud providers, including Amazon, Apple and Google, have seen similar problems. Actually, Amazon in particular has seen a lot of uptime and stability problems with AWS over the past couple of years, though its dashboard on Thursday afternoon shows full service availability.