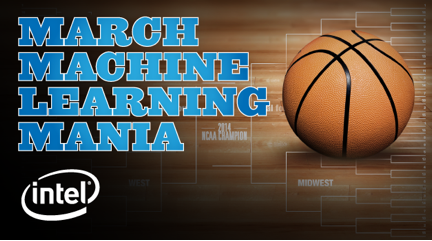 It's that time of year again. This year's the year, you tell yourself. You feel good about your bracket. You've done your research, picked the right upsets, and you're confident in your Final Four picks.
Then, of course, it'll all come crashing down. Maybe you'll have a good first round. Maybe you'll make it past the second before red lines start running through your bracket. Most of your teams might even survive until the Sweet 16 or Elite 8. But eventually the dominoes will fall and "picking with your gut" will get you where it's always gotten you, watching some other lucky guy crowned king of the office pool.
This year, there may be a better way.
March Machine Learning Mania, a new contest sponsored by Intel and Kaggle (a data analytics competition platform), looks to apply Big Data and statistical analytics to the quest for the perfect bracket. Contestants plug in data from the 2013-2014 season and this year's seeding into prediction models, and Big Data algorithms will fill out their brackets.
"We set it up as a fun way to let people actually take data and employ it on a problem they traditionally wouldn't use it on," said Will Cukierski, a data scientist at Kaggle. "A lot of people fill out brackets with this idea that you can predict things with your own intuition. They never take it a step further. We like to joke that anybody can enter this competition, but you need a Ph.D. in theoretical physics to win. We have people from all over the world, coming from totally different backgrounds: business analysts, physicists, statisticians, anyone who can manipulate numbers."
March Machine Learning Mania is broken up into two phases. During Stage 1 (Model Building), from Jan. 7 to March 15, contestants used Big Data to predict historical games. Kaggle released data from the last five NCAA tournaments, which the contestants plugged into the data analysis models they've built for this year's tournament, competing against each other through a live leaderboard.
The moment Selection Sunday hit and the brackets were set, Stage 2 began. Kaggle released data for the 2013-2014 season, and from then until 11:59 PM on Wednesday, it's a mad rush for competitors to plug the data into their algorithms and lock in their brackets. At the start of Stage 2, there were 302 players, playing both alone and as past of 220 different teams.
(Related: Five terms to know for Big Data)
The data, aggregated on a team-by-team basis, is made up of all the schedules, results, scores, individual and team statistics, team rankings, and of course the tournament seeding for this year's NCAA Men's Basketball season. The data jockeys can incorporate any statistic or metric they want, though. Contestants are free to factor in player biographies, press predictions, on-court shot tracking or any other outside data stream.
"There's going to be some luck involved," Cukierski said. "You definitely won't be able to win with luck alone, but you'll have to be both skilled and lucky to win."
The tournament is scored differently from traditional bracket challenges, as all games are counted equally instead of increasing in value as the tournament progresses. Intel and Kaggle want luck to play as small a role as possible, so the contestant with the most accurate Big Data backed-predictions will win. What does play a factor is confidence, and the scoring algorithm both rewards and punishes players for their level of certainty on a pick.
"There's a bet you have to make," Cukierski said. "You can be very confident and say there's a 99% chance that Duke beats North Carolina, or you can be much more reserved and say there's a 51% chance that happens. Where you draw that line can really make or break you in the way we've set up the tournament. If you're very confident and wrong, you get punished, but if you're very mild in your predictions and don't take a strong stance, you're also not rewarded as much."
March Machine Learning Mania is winner-take-all, so the first-place winner will take home $15,000, courtesy of Intel.
"We'd like to foster more awareness for the new approaches to handling data, to get people to think about Big Data in a different way," said Boyd Davis, vice president of Intel's Data Center Group and general manager of the Datacenter Software Division.
"It's still an esoteric thing. When you look around the world, a lot of organizations struggle to know what to do with Big Data," Davis said. "Their biggest challenge is a lack of imagination. The Kaggle competition is a way to bring Big Data home for business leaders and non-technologists to tackle more traditional problems like filling out your bracket, using data to create a different outcome. It's a lighthearted way to expose the possibilities, using sports in a way many people can get a tangible feel for. "
Intel is working to enable an ecosystem of application development around its Big Data offering, the Hadoop-based Intel Data Platform. In driving promotions like March Machine Learning Mania, the company hopes to prove what value and insight can be gained, beyond the capability of traditional tools, from harnessing the power of Big Data.
"Big Data is kind of in that hype cycle where cloud computing was three or four years ago," Davis said. "Like cloud computing at the time, people are still a little cynical about it, but we see Big Data as transformative not only to IT but to every field of human endeavor.