Even after the Windows 10 announcements that redefined the company's future through an immersive holographic lens, Microsoft isn't done unveiling new products and strategies.
In conjunction with the Office for Windows 10 suite of touch-optimized programs for the full range of Microsoft devices, the company also announced Office 2016, a revamped suite of desktop-specific productivity applications. The next-gen versions of Word, Excel, PowerPoint, OneNote and Outlook for Windows 10 are set for release sometime in the second half of 2015.
(Related: Microsoft's next chapter: New OS, browser, devices and holograms)
While Office 2016 details are still scant, Julia White, general manager of the Office Product Management team, briefly detailed the new features in each coming Office universal app in the Office for Windows 10 suite.
Word for Windows 10: Includes a new Bing-powered Insights for Office feature that annotates documents in Read mode with multimedia content and additional relevant information, including Web references and definitions.
Excel for Windows 10: New touch-first controls for cell selection, chart and graph formatting, and workbook management for spreadsheets.
PowerPoint for Windows 10: A new Presenter View for presentations and Ink Tools for real-time slide annotation.
OneNote for Windows 10: The shared notebook collaboration feature now includes a consistent user experience featuring the Office ribbon.
Outlook Mail and Outlook Calendar for Windows 10: Microsoft Word functionality is now built into the e-mail composition UX, and touch gesture functionality can be used to organize the Outlook inbox.
A closer look at Spartan
Microsoft has also revealed some more details about Project Spartan, the new browser set to ship in all versions of Windows 10.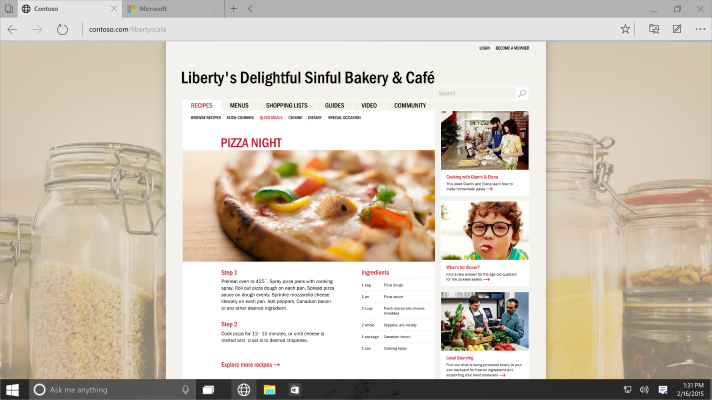 Spartan jettisons the traditional versioned document modes of Internet Explorer in favor of a more interoperable markup akin to other modern browsers, rendered using the relatively new "Edge" mode engine implemented in Internet Explorer 11. Windows 10 devices will all contain both Spartan and Internet Explorer, available on a case-by-case basis when supporting new websites or legacy enterprise sites. A hefty list of IE11 fixes, new features and F12 developer tools is available in this blog post from Jason Weber, Internet Explorer group program manager.
To help developers get a handle on what new features and legacy support Spartan will carry, Microsoft devised this GIF: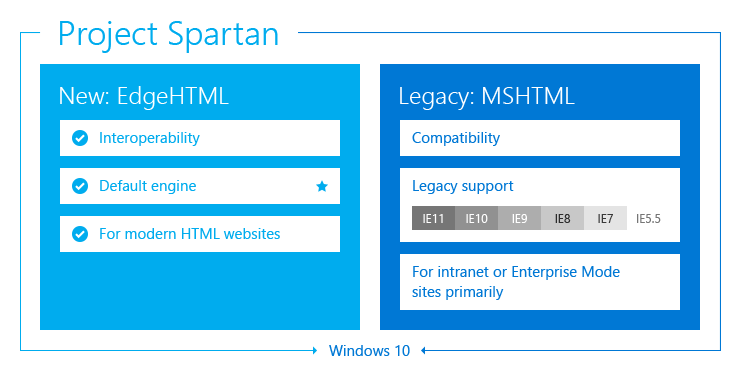 A list of current and future platform capabilities planned for Spartan is available on Modern.ie.
'Empowering developers to dream again'
In the aftermath of all the wow-factor presentations during Wednesday's press event, Microsoft's developer ecosystem director Kevin Gallo aimed to drive home the main points of Microsoft's strategy for developers.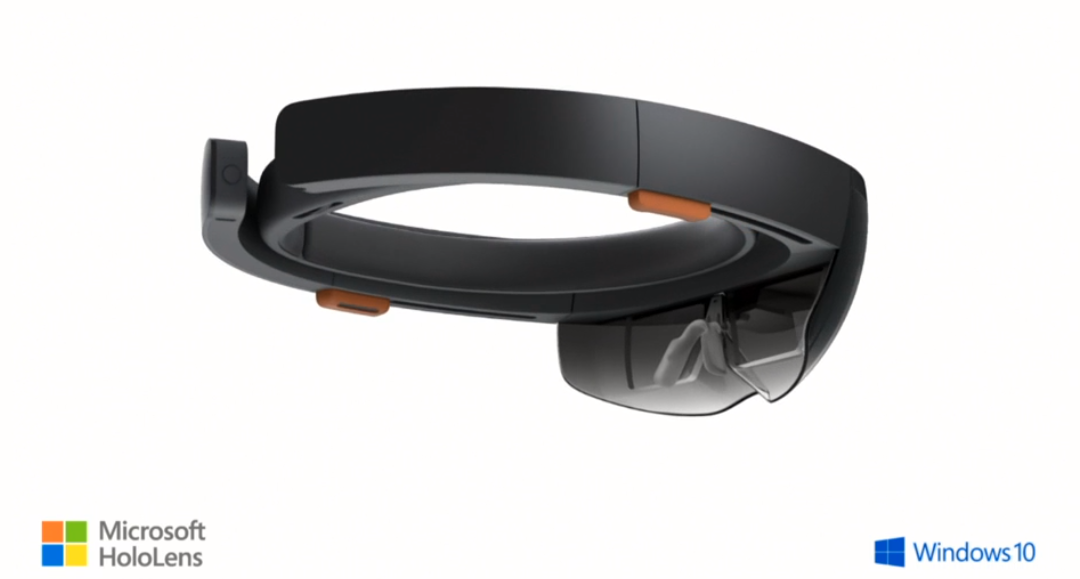 In a Building Apps for Windows blog post, he laid out three developer goals for Windows 10: "Driving scale through reach across device type," "Delivering unique experiences" and "Maximizing developer investments." What this mean is that Microsoft hopes to encourage developers to create Windows 10 apps that work across all Microsoft devices—including HoloLens—imbued with new functionality such as Cortana through a consistent selection of code tools, resources and developer training.
That starts with an initial offering of documentation and training, including a starter guide to building universal Windows apps and app samples, a 12-part video training on building universal Windows apps using HTML and WinJS, and on-demand C# and XAML training.
Gallo teased a slew of Windows 10 platform information to come at Build 2015 in April.