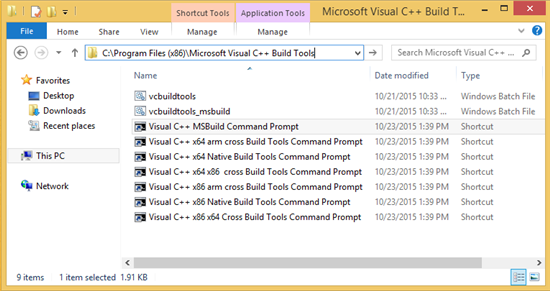 Microsoft has announced a new standalone installer for downloading C++ tools without installing the Visual Studio IDE in Visual Studio 2015 Update 1 RC.
"This new installer is meant to streamline the delivery of the C++ build tools in your build environments and Continuous Integration systems," wrote Marian Luparu, senior program manager for Visual C++ at Microsoft, in a Visual C++ Team Blog post.
A pre-release of the installer is available in Update 1.
Code Fellows to offer workshop for military personnel
Code Fellows, a software development school, is launching a one-day workshop at Camp Murray in Tacoma as a way to give military personnel and their families a look inside the software development trade.
The workshop is called Code 101: Intro to Software Development & Careers in Tech, and it will take place on Nov. 14. The class size is limited to 50 students. It's a 12-hour workshop to show how websites are built and deployed, and those attending will also learn how to code a webpage using industry tools and code practices.
QASymphony announces qTest Scenario
QASymphony has announced a new JIRA plug-in to allow developers to optimize and scale a test-first approach.
"For the first time, developers can build features and scenarios directly in the JIRA plug-in, and then query them through out-of-the-box integrations and APIs," said Kevin Dunne, vice president of strategy and business development at QASymphony.
qTest Scenario features a gherkin editor, the ability to import and export existing feature files, end-to-end traceability, the ability to manually track test results with multiple runs, out-of-the-box integration with Cucumber via Maven for automated test results, and an API for building custom integrations.
Progress releases OpenEdge
Progress has announced the latest release of its platform for developing, deploying and managing business apps. The latest OpenEdge platform focuses on business challenges around user experience, security and developer productivity.
"Our customers and partners are the driving force behind the Progress OpenEdge platform," said Colleen Smith, vice president and general manager for Progress at OpenEdge. "That is why it is important for us to provide the latest and greatest capabilities to help them move toward the next generation of application development—staying competitive in an ultra-intense market."
The latest release features include the ability to migrate existing WebSpeed apps to Pacific Application Server for OpenEdge; Transport Layer Security; the ability to create custom installs; SQL improvements; an application performance profiler; the Telerik Platform for OpenEdge; and the OpenEdge Developer Kit: Classroom Edition.