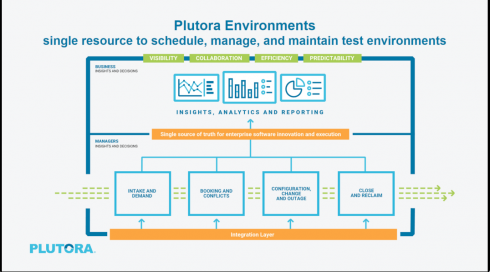 The continuous delivery management company Plutora wants to streamline enterprise test environment management in its latest release. The company announced the new CD Pipeline functionality as part of its Plutora Environments solution.
Plutora Environments is a pre-production environment management solution for enterprise IT. The new functionality enables teams to manage multiple test environments as well as provide visibility, traceability and control.
According to the company, many businesses are wasting billions of dollars due to poor test environment management. Software is changing the world of enterprise, meaning businesses who are not traditionally software companies have to now balance a mixture of technology and software development methodologies as well as speed and control, Plutora explained. What ends up happening is a lack of visibility into specialized tools that results in an inability to assess and reduce schedule risk across multiple pipelines. This leads to an inability to identify new code changes, and inefficient handoffs from development to test.
"Enterprise test environment management encompasses a complex range of components and architectures, but traditionally there has not been a solution that provides a consolidated view of environment availability, usage and configuration detail. Without this view, large enterprise customers who can have up to thousands of test environments, struggled to avoid conflicts and mis-configurations, leading to significant financial loss for the business, which can total billions of dollars yearly," the company said in a statement.
The new CD Pipeline functionality is designed for quality assurance teams, test environment managers and release managers.
For QA teams and test environment managers, the solution enables teams to associate new code commits with features or fixes; ensure accuracy to test coverage; trace updated code to fix defects; assign test cases; and automatically link change requests to test cases.
For release managers, CD Pipeline provides the ability to monitor product quality, highlights how new code is progressing, and provides traceability of test cases and results.