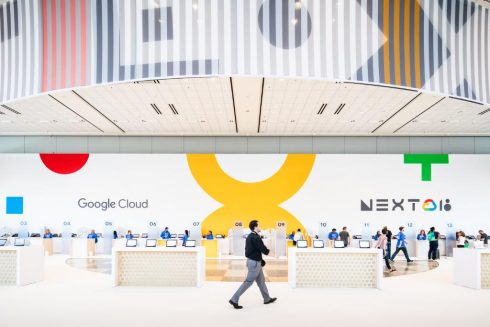 IBM announced it teamed up with Google Cloud to help build the newly announced Knative solution. The companies announced the partnership at the Google Cloud Next 2018 conference happening in San Francisco this week. Knative is an open-source project designed to enable serverless platforms to run on top of Kubernetes.
"Ultimately, we anticipate Knative becoming a foundational component for serverless architectures that can take advantage of all types of cloud-native tools. For example, Knative could one day enable a developer to use Apache OpenWhisk to orchestrate all parts of a cloud app in a serverless fashion, such as running both containers and functions-as-a-service events, all on-demand and on an as-needed basis. This could drastically expand the scope of how serverless tools such as OpenWhisk can be used, evolving beyond functions into a complete foundation for full-scale apps in production," Jason McGee, VP and IBM fellow for IBM cloud, wrote in a post.
Other Google Cloud announcements and partnerships from the conference included:
CloudBees Kubernetes app is now on the Google Cloud Platform Marketplace
Enterprise DevOps provider, CloudBees, is adding a commercial Kubernetes-native application to the GCP Marketplace. According to the company, this new offering provides an end-to-end coverage of all software delivery pipelines.
"At CloudBees we like to say that 'every business is a software business.' With the rapid adoption of Kubernetes this statement is becoming truer than ever; opening the doors to digital transformation for enterprises large and small," said Jason Mero, vice president of business development at CloudBees. "The ability to easily deploy CloudBees Core on Kubernetes in a single click significantly reduces the overhead required to manage an enterprise continuous delivery platform that is vital to adopting a DevOps culture and transforming the business."
H2O.ai and Google Cloud tackle enterprise AI adoption
H2O.ai announced a new collaboration with Google Cloud to speed up and drive the adoption of enterprise AI. As part of the collaboration, H2O.ai will integrate its suite of products including its automated machine learning platform H2O Driverless AI and it's open-source platform H2O-3 with the Google Cloud Platform. According to the company, this will help bring AI and machine learning capabilities to the cloud.
"Customers are looking for AI solutions that are not only simple to implement and use, but that will also scale with their organizations over time, so we're excited to integrate H2O.ai's products and capabilities with Google Cloud Platform," said Adam Massey, director of global technology partners at Google Cloud. "Our collaboration will give customers access to enterprise-grade machine learning and AI capabilities from both H2O.ai and Google Cloud."
The new integrations include:
H2O-3 and Driverless AI on Google Cloud Platform Marketplace
H2O-3 and Driverless AI with KubeFlow
H2O Sparkling Water with Google Data Proc
Driverless AI on Google BigQuery
Cloudability now supports Google Cloud Platform
Cloud cost management provider Cloudability announced new support for the Google Cloud Platform on its Trust Cost cloud management platform. According to the company, the newly added support will provide full visibility into a business' GCP spend as well as give them more power to visualize cost, management budgets and drive cost savings.
"We've seen a growing trend of enterprises embracing multi-cloud environments for reasons ranging from seeking out best of breed technologies, to a desire to remain cloud agnostic, to disaster recovery preparedness," said Erik Onnen, CTO for Cloudability. "GCP's popularity is growing, earning a Leader spot in Gartner's 2018 Magic Quadrant for Cloud Infrastructure as a Service, Worldwide for the first time. It made sense for us to bring GCP under our True Cost umbrella and give our users the ability to run their multi-cloud environment with flexibility, agility and full transparency into their operational and billing models, freeing up time and resources for their employees and business."
InterSystems IRIS Data Platform certified on GCP Marketplace
InterSystems' IRIS Data Platform is now available in the GCP Marketplace. According to the company, this will help users access and deploy Intersystems IRIS on Google Cloud.
In addition, the company announced it is participating in the Google Technical Partner program and expanding support for cloud environments.
"Today's organizations need the flexibility to choose how to deploy their applications to meet evolving market demands. Making our technology available via the GCP Marketplace empowers our partners to more quickly access and build InterSystems IRIS-based applications on the Google Cloud," said Carlos Nogueira, general manager for data platforms at InterSystems. "InterSystems is dedicated to a cloud-first approach that enables our partners and customers to rapidly develop data-driven applications that save and improve lives, enhance customer experiences, and drive operational efficiency at all levels of an enterprise."
ClearDATA to collaborate with Google Cloud on healthcare innovation
ClearDATA and Google Cloud are teaming up to tackle healthcare compliance and security as well as speed up advancements and scale healthcare IT infrastructure.
"Our partnership with Google Cloud gives those wanting to innovate on Google Cloud Platform the chance to do so in a secure and compliant environment without fear of compromising sensitive health data, ultimately increasing their opportunities to advance healthcare and improve patient outcomes," said Darin Brannan, CEO of ClearDATA.
With Google Cloud, ClearDATA users can reduce risks and prevent human errors with data backups, storage volume encryption, intrusion prevention and logging and log backups capabilities.
Cohesity DataPlatform Cloud Edition now available on Google Cloud
Cohesity is bringing its DataPlatform Cloud Edition to the Google Cloud Platform in order to help enterprises backup and protect their data. Cohesity will offer an enterprise-grade solution for backup and recovery for apps using the Google Compute Engine.
"Enterprises want to take advantage of the benefits of multi-cloud architecture and this requires a data protection and backup solution that works easily across public clouds as well as on-premises and private cloud infrastructures," said Lynn Lucas, chief marketing officer at  Cohesity. "Our integrated solution with Google Cloud Platform empowers customers to combine the scale and efficiency of Google Cloud Platform with radically efficient backup and data protection capabilities that can be managed from a single, easy-to-use interface."