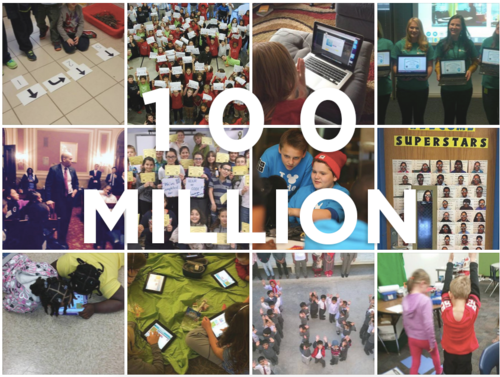 Code.org announced its Hour of Code campaign has eclipsed 100 million hours, measured by the time students have spent taking the free programming courses and tutorials offered online.
The total dates back to the program's beginning back in June 2013. The organization also announced the number of lines of code written has surpassed 5 billion through Code.org's Code Studio tutorials, counted through Code.org's block-based coding system.
More information about the Hour of Code milestone can be found on Code.org's blog.
Docker 1.5 released
Version 1.5 of Docker project's application deployment container technology has been released with a slew of new features.
Docker 1.5 adds support for the IPv6 Internet communications protocol, along with new features such as read-only container capabilities, a "Named Dockerfile" specification, and an open image specification. The latest release also implements a new stats API endpoint and a CLI command to enable live-streaming of CPU, memory, network IO and block IO statistics for containers through existing monitoring solutions or a live custom dashboard.
Additional release information about Docker 1.5 is available in the Docker blog post.
White House to address cybersecurity
In the wake of the Sony cyber attack, the Obama administration wants to create an agency focused on fighting cyberthreats, according to the Washington Post.
"The cyberthreat is one of the greatest threats we face, and policymakers and operators will benefit from having a rapid source of intelligence," said Lisa Monaco, assistant to the president for homeland security and counterterrorism, in an interview with the Washington Post. "It will help ensure that we have the same integrated, all-tools approach to the cyberthreat that we have developed to combat terrorism."
The agency, called the Cyber Threat Intelligence Integration Center, will be modeled after other government organizations meant to counter terrorism, such as the National Counterterrorism Center.