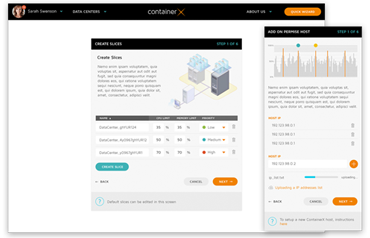 Docker has simplified the way developers work with containers, but one company thinks containers have the potential to go beyond developers to enterprise IT. ContainerX, founded by veterans from Citrix, Microsoft and VMware, is a startup aimed at transforming containers from a development tool to the building blocks of the next generation of data centers.
"ContainerX is like vSphere for containers," said Kiran Kamity, CEO of ContainerX. "It is a ready-to-go container infrastructure platform that is designed for enterprise IT, where developers can come in and self-service using [the] Docker command line."
Bringing containers to the data center would eliminate the need for virtual machines (VMs) there, according to Kamity. With containers, users will get a sense of application agility and be able to move applications from development to IT smoothly, he explained.
(Related: Docker releases hardware signing of container images)
"If containers were to become a first-class citizen, then the agility problem is solved because the moment a developer is done with the application development, a container is created, and that container can be easily launched on any infrastructure platform by the IT admin, and the deployment time can be cut down from weeks to hours if that," said Kamity.
Another problem with virtual machines is the amount of VMs an organization has to maintain. For example, if a large organization has 10,000 VMs, then those are 10,000 copies of operating systems it has to maintain, update, patch and secure, according to Kamity.
"The data center as we know it today is going through a massive change," said Kamity. "With traditional virtual machine infrastructures, enterprise IT faces two fundamental issues: operating system management, and the lack of application-level agility. Containers have the potential to address both of these critical issues and therefore become a fundamental building block of the data center of the future. ContainerX is a plug-and-play container platform that is designed specifically for IT admins who are not looking for a DIY project. It is transforming the enterprise journey, shaping data centers of the future and furthering the promise of containers."
While the goal is to replace VMs, Kamity notes that they will still have a place in data centers, and a percentage of them will remain if containers break through the enterprise.