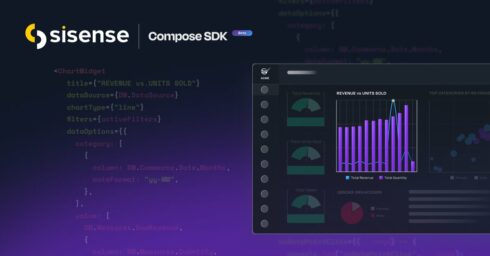 The analytics company Sisense is releasing a public preview of a new SDK that it hopes will empower developers to embed analytics capabilities into their apps. Compose SDK for Fusion is a toolkit that provides tools and components for embedding analytics in a modular way so that developers don't have to build those capabilities from scratch. 
It includes components for features related to analytics, such as querying, charting, and data exploration, for example. 
The components are bundled with "robust documentation, detailed examples, and helpful tools," the company says. 
The SDK libraries were built to be used with existing tools, frameworks, and developer environments so that developers can continue to use their existing tech stack alongside it. 
"Compose SDK for Fusion accelerates time to value with a modular, flexible, API-first approach built on the foundation of a complete componentized architecture. Today's developers seek greater control and integration that aligns with their unique development practices and CI/CD pipelines. This has ignited a surge in demand for developer-first analytics" said Ayala Michelson, chief product officer at Sisense. "We help developers unleash their creativity, so they can give their customers decision-making confidence through insights when and where they need them."
Sisense is a company that has been around in the analytics space for over 15 years, and it says this announcement is the first of many new developer-centric capabilities it will be releasing starting in 2024.