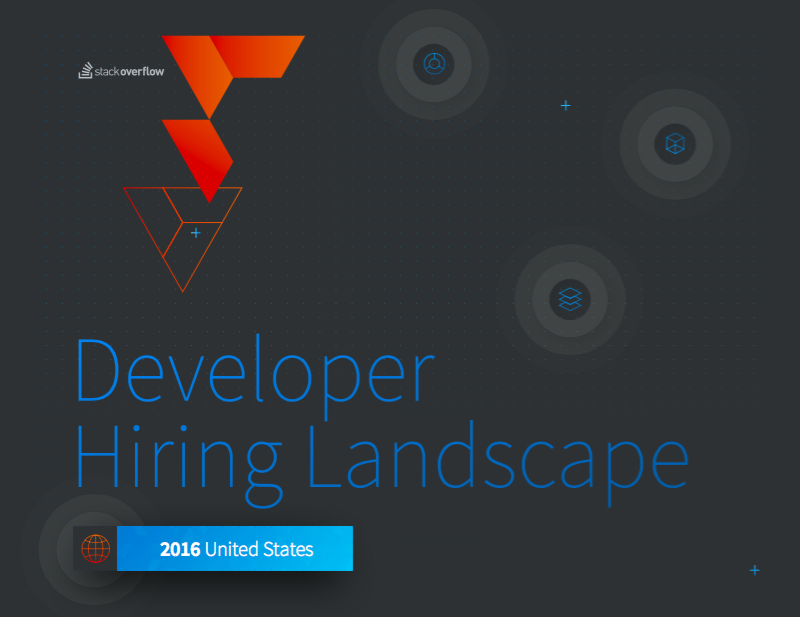 Developers are in high demand, but if you want them to work for you, you have to understand them first. Stack Overflow has released the results of its 2016 Developer Hiring Landscape survey, which revealed what is important to developers at work and how companies can improve their interview processes.
"If you're trying to hire the best tech talent at any level, understanding the developers you want to attract is the single most critical step," said Jay Hanlon, vice president at Stack Overflow.
(Related: Why some developers are frustrated with GitHub)
The survey found that while 97.6% of U.S. developers are currently employed, 62% are not in a job they love or look forward to going to every day. And while nine out of 10 developers are gainfully employed, more than three-quarters are still open to new job opportunities. Salary is one of the top things developers look for when evaluating a new job opportunity, followed by work and life balance, company culture, quality of colleagues, and building something that's significant.
The most annoying aspects of job searching, developers said, include the interview process, searching for a job that seems interesting, writing cover letters, and taking time off from work to go to an interview. When asked what companies can do to improve their interview process, developers reported being introduced to the team, having to deal less with "brain teasers," showing more live code, knowing who they will be speaking with, and seeing the space where they will work.
When it comes to work, 66% of developers revealed they want to learn new technologies, 59% want to build something new, 45% want control over product decisions, and 40% want to believe in the company's mission. The challenges respondents faced in the workplace include unrealistic expectations, poor documentation, unspecific requirements, inefficient development processes, and a fragile codebase.
Other key findings revealed about 70% of developers are at least partly self-taught; 73% think diversity is somewhat important; JavaScript is the most popular technology; the most loved programming languages include Rust, Swift, F#, Scala and Go; and the most dreaded languages and platforms include Visual Basic, WordPress, MATLAB, SharePoint and CoffeeScript.
"It is interesting to see that 69% of all developers identified as at least partly self-taught. This is up from 42% in the previous year. And 13% of respondents across the globe tell us they are only self-taught. This speaks to how highly motivated developers are to continually learn and improve, and reinforces that recruiters can no longer judge developers based on the degree they have on their resume," said Jeff Szczepanski, COO at Stack Overflow
More information is available here.