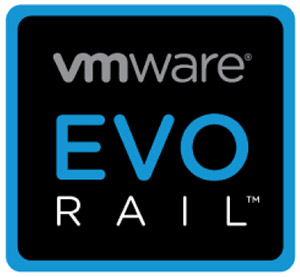 VMware yesterday announced a new effort to sell its software pre-installed on a new server form factor, and to bring new partners like Docker onto its platform.
VMware's EVO:RAIL system is a new take on server hardware based on the VMware stack. Working with hardware vendors like EMC, these servers will come pre-installed with VMware software, and will pack four servers into two units of rack space. Other vendors signed on to offer these servers in full rack increments, including Dell, Fujitsu and Supermicro.
(Related: VMware acquires CloudVolumes)
EVO:RAIL servers feature a new architecture that allows multiple servers to occupy a two-unit rack. The layout of these servers is similar to the kind described by the Open Compute Project, which seeks to break enterprise severs out of the standard one-server-per-unit designs.
EVO:RAIL systems, in theory, will be able to include various types of hardware to specifically address data center needs: more hard drives for storage racks, or more RAM and CPU power for compute racks. VMware is already marketing EVO:RAIL servers as modular building blocks for the data center, and it will be available to businesses in the fourth quarter.
Docker and OpenStack partnerships
VMware also made announcements at its user conference around Docker and OpenStack. For OpenStack, VMware plans to distribute its own version of the data center platform, one that can run virtual machines with VMware underneath.
This is not the company's first foray into OpenStack, despite outward appearances. In November of last year, VMware released an OpenStack Havana-based package known as the vSphere OpenStack Virtual Appliance (VOVA). Since then, the company has even updated VOVA to include the Icehouse release of OpenStack.
While VOVA is not as comprehensive as what VMware CEO Patrick Gelsinger announced on Monday, it does allow users to experiment with deploying OpenStack from within vSphere and their existing VMware environment.