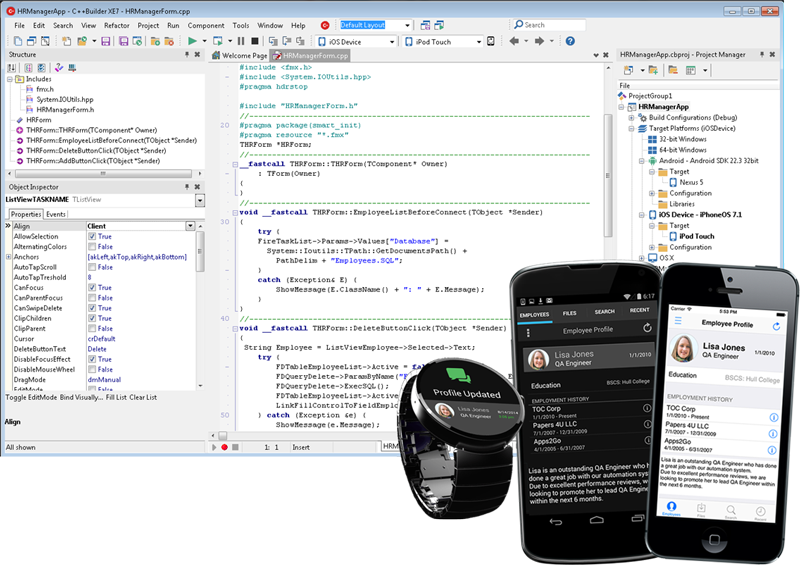 With the emergence of mobile devices, connected gadgets and wearables, developers need to extend their app development to fit new devices and form factors. Embarcadero wants to help simplify the process; the company has announced RAD Studio XE7, its solution to build connected apps for Android, iOS, OS X and Windows, as well as gadgets and wearables.
"One of the biggest challenges for Windows developers today is extending their existing applications beyond the desktop to participate in this new world of mobile devices and connected gadgets and wearables," said Al Hilwa, program director of software development at IDC. "RAD Studio XE7 takes aim at these challenges with key technologies for multi-device development, enterprise mobility and device connectivity."
With RAD Studio XE7, developers can extend their existing Windows applications to desktop and mobile devices, gadgets, cloud services, enterprise data, and APIs, according to John Thomas, director of product management at Embarcadero. RAD Studio XE7 features the FireUI multi-device designer and UI components for developers to build multiple platforms and device form factors simultaneously.
"We want to help our developers take advantage of this new ecosystem to breathe new life into their existing apps, and to have an opportunity to reengage with their users, continue to build out their solutions with more and more value for the end users, but at the same time leverage that existing codebase," Thomas said.
The company's app tethering feature, which allows developers to leverage existing Windows apps and build mobile companion apps that easily interact with one another, has been enhanced to include Bluetooth support, allowing developers to connect their apps to WiFi and Bluetooth-enabled devices.
In addition to Bluetooth support and the shared user interface, Embarcadero is also launching a new solution for enterprises to securely move their data to mobile devices.
"Enterprises need to be able to securely access data from their back end; move it to a mobile device in a robust, secure and scalable way; expose custom APIs; have high-performance access to major databases; and need analytics to understand how people are using the application," said Thomas. "That's why we are introducing Enterprise Mobility Services."
Enterprise Mobility Services provides developers with user management and authentication, loadable modules for custom APIs over REST, enterprise SQL database access, mobile embedded and server-side SQL data storage, and a Web console for user, device and API analytics.
Other features of the release include a parallel computing library, Object Pascal language improvements, RTL improvements, database and FireDAC improvements, a new PAServer manager, and FireMonkey enhancements.
"RAD Studio XE7 is a game-changing opportunity for developers to be able to easily and quickly revitalize, performance enhance, and extend existing Windows applications with connected mobile devices, gadgets, sensors, and both cloud-based and on-premises services for customers in various vertical markets," said Michael Swindell, senior vice president of products at Embarcadero, in the company's announcement.
More information is available here.