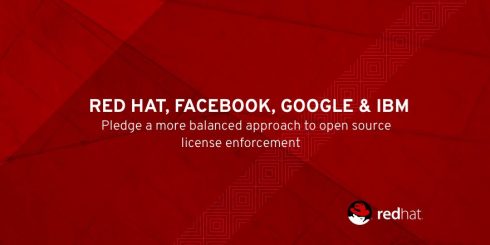 Top technology companies are joining together on open-source license compliance and enforcement. Facebook, Google, IBM and Red Hat alongside the Linux Kernel Community have announced a new commitment to overcoming open-source license compliance errors and mistakes through a new community-oriented approach.
"We are taking an approach to compliance enforcement that is consistent with the Principles of Community-Oriented GPL Enforcement. We hope that this will encourage greater collaboration on open source projects, and foster discussion on how we can all continue to work closely together," Chris DiBona, director of open source for Google, wrote in a blog post.
According to the companies, when the GNU General Public License version 3 was released, it introduced an express termination approach to cure errors and license compliance. The companies want to extend this capability for software code under the GPLv2 and LGPLv2.1 and v2 license in order to provide greater predictability of open-source software. GPL and the GNU Lesser General Public License are among the most widely used open-source software licenses used today.
"Open source accelerates the pace of innovation in the world. Extending the good-faith opportunity for developers to correct errors in license compliance has the potential to help move the industry forward and allow engineers to focus on building great things," said Allen Lo, vice president and deputy general counsel at Facebook.