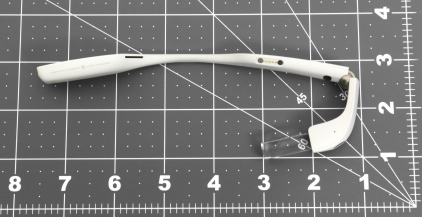 Earlier this year, it was speculated that Google was working on an Enterprise Edition of its wearable device Google Glass. The Federal Communications Commission (FCC) has published new filings that provide more details into this newest edition.
According to the new images, the Enterprise Edition will be slicker, provide a larger display prism (which was previously rumored to help make it easier for users to look around without causing eyestrain problems), and will be bendable in order to make it easier for travel.
Google was previously working on an Explorer Edition of the wearable device, but shut down the program in the beginning of this year. Since then it has been reported that Google was changing its direction to focus on the enterprise instead of consumers.  
This edition of the glass will be limited to Glass for Work startups, which will likely load their software onto the device before it is distributed, according to a report in 9to5Google. Google has not yet released an official statement about the device or its plans with the device.