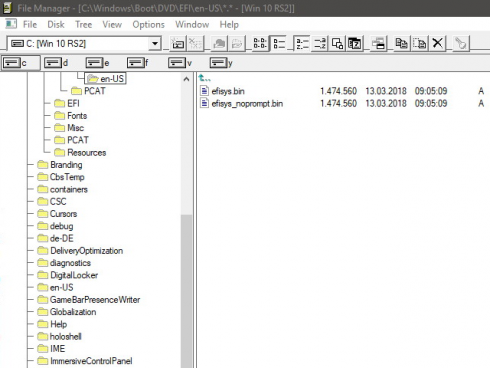 Microsoft has brought Windows File Manager (WinFile) out of retirement. First developed in May 1990 and available Windows 3.0, WinFile it is a simple file management utility that replaced the command-line interface of DOS applications to manage files from previous Windows versions.
In the late 1990's, it was replaced by Windows Explorer and retired… until now. As of this month, WinFile is available as an optional download on modern Windows releases, including Windows 10.  Microsoft's Craig Wittenberg brought WinFile back to life and added compatibility with Microsoft's latest Windows 10 operating system.
"The master branch contains changes I have made since 2007," Wittenberg wrote in a blog post. "The changes have been solely determined by my needs and personal use. Some of the changes have limitations that fit the way I use the tool."
Updates include the ability to compile and execute the tool on 64-bit Windows installations for the first time. Also, there is a modification from the Windows NT 4 release for compatibility with recent Windows releases.
"This project welcomes contributions and suggestions. Most contributions require you to agree to a Contributor License Agreement (CLA) declaring that you have the right to, and actually do, grant us the rights to use your contribution," according to the GitHub project. "When you submit a pull request, a CLA-bot will automatically determine whether you need to provide a CLA and decorate the PR appropriately (e.g., label, comment). Simply follow the instructions provided by the bot. You will only need to do this once across all repos using our CLA."
Top 5 trending GitHub projects of the week:
Winfile: Today's GitHub project of the week!
Tabler: A HTML dashboard UI kit.
Interview Notebook: Still trending to give you the confidence to nail your technical interview.
Whatsapp Web Reveng: Reverse engineering of the WhatsApp.
Textql: Provides the ability to execute SWL against structured text.