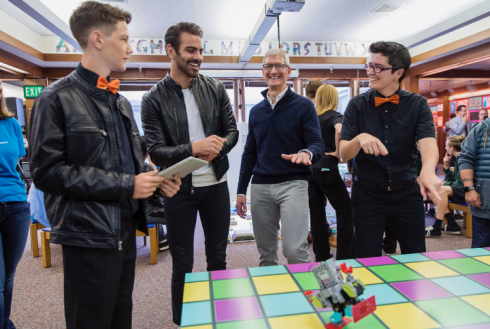 On Global Accessibility Awareness Day yesterday, Apple announced it will be teaming up with educators from blind and deaf communities across the US to provide accessible coding to their schools. Starting in the fall, schools that support students with vision, hearing, or other assistive needs will teach the Everyone Can Code program for Swift, which is Apple's programming language.
Students will learn code in an interactive way on Swift Playgrounds on an iPad, which will allow them to use code to solve puzzles and control characters. Students will also work their way up to being able to build their first iOS app, according to the company. 
"Apple's mission is to make products as accessible as possible," said Tim Cook, CEO of Apple. "We created Everyone Can Code because we believe all students deserve an opportunity to learn the language of technology. We hope to bring Everyone Can Code to even more schools around the world serving students with disabilities."
Rackspace acquires RelationEdge
Rackspace announced that it has acquired RelationEdge, which is a Salesforce Platinum Consulting Partner. Because SaaS applications such as Salesforce are an important component of many digital transformations, Rackspace hopes this acquisition will expand its ability to be a preferred partner for managing customers' complete application portfolio through their digital transformations.
"We have acquired RelationEdge in response to the growing demand we're hearing from customers," said Gerard Brossard, EVP and general manager of Rackspace Application Services. "Enterprise and midmarket companies are increasingly deploying SaaS applications to enhance business processes across many departments, from sales and marketing to customer service, operations, HR, and finance. These applications are powerful, but also complex to implement and costly to continually keep up-to-date. RelationEdge further extends Rackspace's unrivaled portfolio and expertise to help companies navigate and operate in the world of ever-changing IT."
Theta Labs enters partnership with Play Labs
Theta Labs has announced a new partnership with Play Labs, which is a startup accelerator being held at the MIT Game Lab this summer. As part of the partnership, Theta Labs will sponsor the summer 2018 batch of Play Labs. According to the companies, this year's batch has a heavy focus on blockchain, AI, AR, and esports.
Startups that participate in Play Labs will be able to integrate the Theta protocol for video streaming, music, entertainment, esports, and other media applications.
"As we roll out the Theta protocol, we are already seeing applications across many industries – esports, entertainment, training, music and more," said Mitch Liu, CEO and founder of Theta Labs, Inc. "We are looking to partner with great institutions around the world, and as an MIT alum myself, I believe that the innovative startups from the MIT ecosystem like those in Play Labs are terrific partners to invent new and value-driven applications for this powerful innovation."
Google aims to make technology more accessible
Google is also helping to make technology more inclusive for those with disabilities. It has announced a new suite of resources in an app called Google Primer to help creators, marketers, and designers ensure they are building inclusive products.
Google Primer features five-minute lessons to teach creators more about accessibility and help them learn practical tips on how to make their business, products, and designs more accessible.
The Google Accessibility page contains free tools to help creators make their site or app more accessible. The Android Developers site features a range of suggestions on how to improve app accessibility.