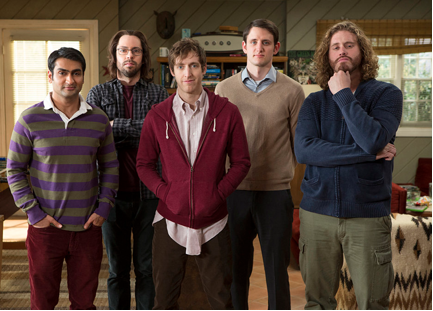 From the mind of "Office Space" creator Mike Judge comes an HBO comedy poking fun at the culture of America's innovation hub from the top down, taking shots at the companies, people and ideologies that have come to define "Silicon Valley."
The pilot episode, titled "Minimum Viable Product," opens on a company party at some unnamed mansion, as Kid Rock plays a private concert for a party that couldn't care less he's onstage. Google's Eric Schmidt walks by, and someone cracks a joke about Elon Musk as the show's awkward group of programmers wanders through a house and a life they all believe are just one game-changing piece of software away.
"We're making the world a better place through constructing elegant hierarchies for maximum code reuse and extensibility," the party's host sanctimoniously proclaims.
Richard Hendrix (Thomas Middleditch), the hoodie-clad, soft-spoken main character of "Silicon Valley," gives a sarcastic shrug.
Richard is living in an "incubator house" with five other programmers, led by Erlich (T.J. Miller), a dotcom millionaire who lets programmers live in his house rent-free in return for 10% of the profits of any company born under his roof. Richard has a day job at Hooli, the show's fictional Google stand-in, with bright white offices, multicolored, vaguely comfortable-looking furniture, and inspirational posters hanging from high ceilings.
Richard's big idea is a website called Pied Piper, a search engine that takes a song and searches the Web to find out if it sounds too similar to another song. It's a terrible idea, which two of Hooli's obnoxious "brogrammers" mock Richard for after tricking him into sending them the link to his GitHub prototype.
Yet they discover that buried in the "clunky UI" of Richard's useless site is a stroke of genius: an algorithm that compresses files beyond known limits without losing quality. The rest of the episode is a bidding war, as Hooli CEO Gavin Belson (Matt Ross) and a venture capitalist named Peter Gregory (Christopher Evan Welch) offer an in-over-his-head Richard millions of dollars in startup money for the algorithm.
The appeal of "Silicon Valley" is that it's just as enjoyable for mainstream audiences as it is for programmers, while making fun of the fallacies of giant tech companies and programmer culture in equal measure. Richard and his band of nerdy brethren with names like Big Head, Gilfoyle and Dinesh are fish out of water even in a world that finally glorifies them. As Hooli's Belson looks out his window down onto his company's campus, he lays out what he thinks is a profound law of programmers: They always travel in packs of five: there's a tall skinny white guy, a short skinny Asian guy, a fat guy with a ponytail, some guy with crazy facial hair, and an East Asian guy.
"Silicon Valley" might best be defined by its opening credit sequence, a cartoonish SimCity-like overview of companies sprouting up and falling down going across the San Francisco Bay Area. For every Google, Oracle, Facebook and Twitter, there's a Napster balloon bursting as companies fall as quickly as they rise.
Despite the ungodly profits, technological breakthroughs and the futuristic aura that basks over this garden of startups and corporations, "Silicon Valley" makes it clear that no one really has a clue what they're doing.
The show is on Sundays on HBO at 10 p.m. EST.