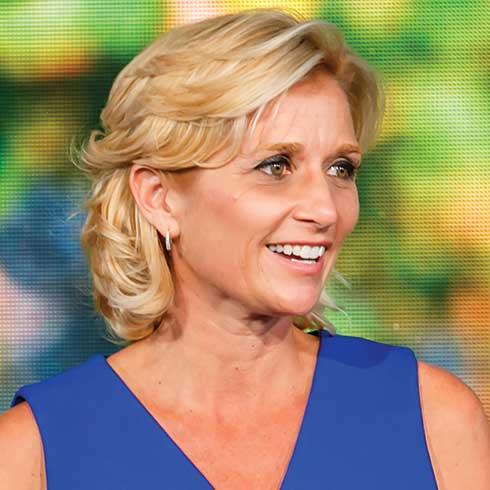 During her time at the Air Force Academy in the early 1990s, Lauri Saft would look at her squadron and see nearly every seat filled by a man. (Indeed, the ratio of men to women was about 10:1.) She learned early on not to see "men versus women," but to value the unit as a whole.
After leaving the academy and joining the corporate world, she now sits in meetings and conferences where she looks past the ratios and focuses on making a contribution to technology and software. Saft has been at IBM for more than 10 years, filling various roles, directing software groups and increasing sales. She watched the company's cognitive system known as IBM Watson grow from just a platform into a large program that helps businesses.
IBM Watson opened up as a development platform in the cloud to increase innovation and create a new ecosystem of entrepreneurial software app providers. These providers will bring a new generation of applications with Watson's computing intelligence. Saft joined IBM Watson two years ago, and now serves as the vice president of its Ecosystem of Partners to leverage the Watson Developer Cloud, APIs, Content Store and Talent Hub.
(Related: Fullstack founds Grace Hopper Academy)
From small startups to big global organizations, her technology knowledge and leadership have been valued highly. Her time spent at the Air Force Academy allowed her to easily adapt to a male-dominated industry, and now she is a driving force in bringing innovation and a new generation of applications to IBM. She is also living proof that women can be strong leaders in the industry of technology, software and business.
She has been passionate about Watson coming out of research and into the business world from the start. At IBM, she's filled some mid- to high-level executive positions both designing and executing new mobile approaches to software sales teams, and leading a team that has a focus on productivity solutions, including cloud offerings.
Although she has had numerous experiences with startups, Saft said she never envisioned being in this role. In her early days, she was exposed to CRM systems, and the company transitioned from paper-based tracking and faxing to e-mailing and using the CRM to document conversations and interactions with clients. This was just the start of productivity gained from technology, and after seeing each group transform their processes and interactions with tools, she said the technology "bug" had bitten her.
"That's the beauty of innovation and technology: It gives you freedom to completely rethink how business gets done, and I love that," said Saft.
Since this is the first time IBM has opened up Watson as a development platform in the cloud, Saft said she has seen a lot of interesting use cases from application companies both small and medium-sized.
"I had to start looking at specialty areas to help young companies use Watson," she said. "The team grew to look at all these different industries, and then we built a whole team behind helping them."
From all of her time spent at IBM, Saft noticed that the industry was rapidly changing. She said businesses that build applications are thinking differently about how they go to market, and companies that are a part of an ecosystem get to "feed off" one another and improve innovation for applications.
Saft also noticed that while the applications and software are improving overall, the industry is especially improving for a certain group of people: women.
Saft's had a long history being the only woman in the room, especially because she has travelled the globe to visit businesses and markets. When she worked in the Middle East, she said as a single woman she had to fend for and stand up for herself because "100% of the time" she would be the only woman in the room. With all-male colleagues in a country that views women differently, she said there was a very different dynamic. "At the same time," though, she said, "you have to be culturally sensitive."
Saft's advice for women in the industry, or to girls who want to get into coding, programming and technology, is to start with a club, class or after-school activity and "dig in." She suggested finding mentors and teachers in the industry and shadowing them, learning their tips and tricks every step of the way. Once in the industry, Saft advised women to show up to work each day as "you," and represent whatever it is that you stand for.
"Bring your best thinking," said Saft. "Above all else, be yourself in every situation, and it feels right."