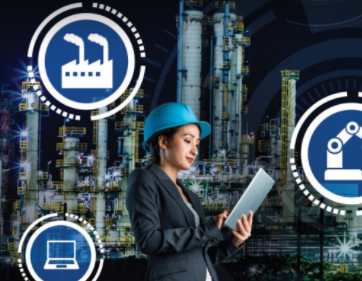 Many industrial applications have been developed to utilize IoT devices and the data they produce.  They generally use cloud hosting, analytics and edge computing technology, often provided and connected via an IoT Platform – a set of tools and run-time systems hosted on the cloud that enable the development and deployment of a "complete IoT solution." 
Most IoT implementations to date are special projects rather than standard solutions, so a system integrator or service provider is required to scope, design and manage the implementation.
But as IoT becomes pervasive, people in industry will expect their business systems to 'just work.'  That is, their existing enterprise systems should be IoT enabled just as they now expect them to be Internet-enabled and data-enabled.  People will expect to access the IoT from within their existing systems, or IoT technology will be used to create enterprise systems that delivers business value.  There will still be a market for IoT platforms and components but most users will consume them in a packaged form.  
A large number of providers – over 350 by our count – have developed IoT platforms, or components from which applications can be built, often relying on an ecosystem of partners to deliver the complete solution.  In most cases, partners provide the IoT devices, cloud storage and computing, edge computing, enterprise applications and the overall project management or systems integration.  
The main IIoT players come from many directions including industrial automation, cloud computing, PLM/CADCAM, and specialist IoT providers that have developed their own platforms.  
Cloud computing, with its global reach, simple subscription pricing and extensive capability, is one of the main reasons that IoT is now becoming so popular.  
Microprocessor companies like ARM support IoT from the ground up using embedded software and sensors.  In fact, the availability of embedded software and sensors is another reason why Industrial IoT is growing so quickly.  This is summarized by Rhonda Dirvin, director IoT vertical markets for ARM:
'The first driver for the spread of IIoT was the proliferation of mobile phone, which drove down the cost of sensors – cameras, GPS, accelerometers, etc.  This drove down the cost of acquiring data.  At the same time, Cloud computing emerged, which provided a platform where this data could be stored and analyzed relatively cheaply.  Altogether this provides the basic framework for IoT.  Other technologies such as Big Data, AI and Machine Learning are now coming into play to help make sense of this data, taking it to a whole new level.'    
Communications companies provide connectivity products from global cellular through satellite to low-power wide area and short-range communications.  And because of the huge amount of data collected by billions of sensors, edge or fog computing providers are springing up to pre-process the data close to its source (i.e. on the edge) so that less is transmitted up to the cloud.  
Many enterprise providers are already adding IoT capability to their systems as a component to improve engineering, production, and product capabilities.  Examples are SAP Leonardo, Salesforce IoT Cloud, IFS with its IoT Business Connector and GE's Brilliant Factory initiative.  
Autodesk, Dassault and PTC also have strong IoT offerings that complement their PLM/CADCAM systems.  Even pure IoT companies are finding most success when they provide a business benefit; for example, Exosite's IoT platform is a key component of the Voice of the Machine IoT platform from Parker Hannifin Corp., which helps its customers support proactive maintenance, reduce unplanned downtime and optimize performance.
The canny enterprise providers are using the sizzle of IoT to sell their existing products, while building solid, out-of-the-box IoT solutions that their customers can easily deploy via their existing enterprise systems.  This helps overcome two of the main inhibitors to industrial IoT success reported in recent surveys;  lack of expertise and complexity.  
As well as requiring less know-how, these out-of-the-box solutions also incorporate security throughout, thus countering the other main objection; concerns about security.
So look forward to the death of IoT as a standalone component and long live IoT technology in business and enterprise systems.
The six layers of the Industrial Internet of Things
The 'thing' or mechanical part – a motor, excavator or part of a building.
Sensors and actuators with embedded software – this makes the thing into a 'smart connected product' – sometimes called an 'IoT device.'
Connectivity – enables 'products' to communicate with back-end systems. In large, complex systems this often includes 'edge computers' that act as collection points for the data and provide pre-processing before data is sent to the cloud.
Product access and data routing – systems that control and manage who has access to what.
Product-specific software applications – this layer makes appropriate connections and integration with other enterprise applications.
Enterprise applications – for example, ERP, PLM and MRO (maintenance, repair and operation) systems.  This includes analytics, often provided through cloud computing.
The main players of Industrial IoT
Industrial automation companies such as GE, Rockwell Automation and Siemens have known for many years the value of control systems and data acquisition, and it even has a name –  'SCADA' (Supervisory Control and Data Acquisition).  They now offer IoT capability, often integrated with their SCADA systems.  
The major 'cloud computing' providers; Amazon, Google, IBM, Microsoft and Oracle, also offer comprehensive IoT platforms.  
The big four PLM companies – Autodesk, Dassault Systèmes, PTC and Siemens – provide IoT platforms.
Specialist IoT providers such as Aeris, Arkessa, Electric Imp, Exosite and RTI have developed their own IoT products.
At the 'microprocessor end' of the IoT stack, companies like ARM, Intel and Texas Instruments are expanding their solutions to support IoT 'from the ground up' using embedded software and sensors.  
Communications companies like AT&T, BT and NTT provide connectivity products from global cellular through satellite to low power wide area and short-range communications.
The routers that collect data from devices and route it to the Internet (or wherever it needs to go) from Aruba, Cisco, Dell, Ericsson, Juniper and others, are increasing their capability and flexibility with SDN (Software Defined Networking).  Electric Imp offers products and services to add connectivity to products and create software for the product and its back-end systems.  Cisco recently announced ACI (Application Centric Infrastructure) which will eliminate the need to upgrade physical hardware.
'Edge' or 'fog' computing is becoming critical to industrial IoT solutions because of the huge amounts of data being collected by billions of sensors.  Edge computers pre-process this data before sending it to the cloud.  This reduces data traffic, increases resilience and improves security by 'ring-fencing' groups of devices.  Edge computing is a major thrust for Cisco, Foghorn and HPE who all have products that help consolidate and analyse data before it is sent up to the IoT platform in the cloud.  The cloud computing providers also provide edge compute capability by different means, for example Amazon has AWS Greengrass and Microsoft has Azure IoT Edge.
Enterprise software – providers of critical enterprise systems such as SAP and IFS (ERP systems) and Salesforce (CRM) are providing IoT capability.
BIM/AEC providers such as Bentley, Intergraph (Hexagon) and Trimble are using IoT in their solutions in several ways including logistics, security, wearables and drones.
System Integrators / Management Consultants – most major consulting / systems integration companies include IIoT as an important part of 'digital transformation' –leveraging digital technology such as IoT to radically change the way a company works and does business. This moves them towards 'Industry 4.0' and is an essential part of the Fourth Industrial Revolution (4IR).  For example, Accenture, Capgemini, Deloitte, EY, KPMG, McKinsey and Wipro all provide IoT services/solutions.