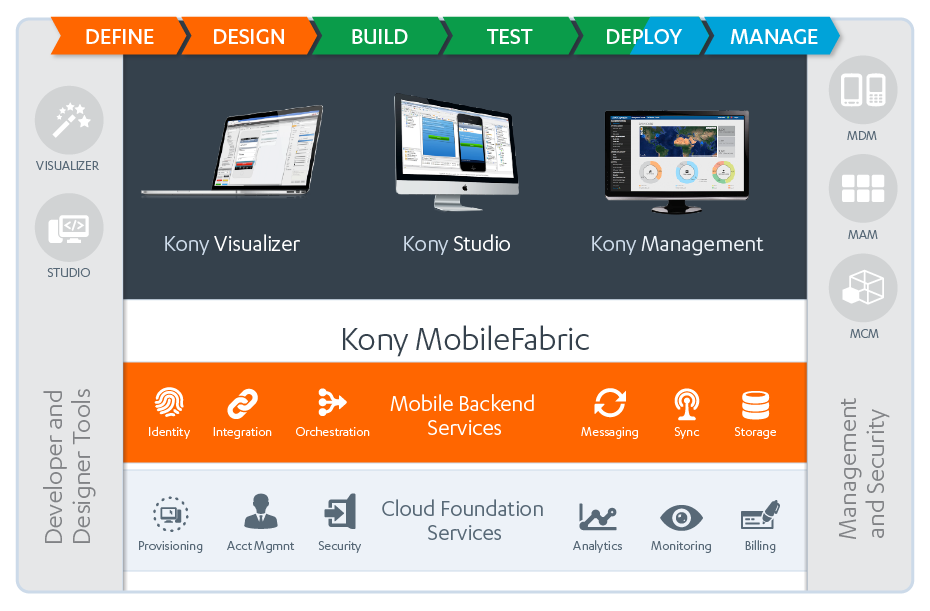 Kony wants to speed up mobile app development with the latest release of MobileFabric, its app development solution that combines a mobile application development platform (MADP), Mobile Backend-as-a-Service (MBaaS), API management and Platform-as-a-Service infrastructure.
"Today our customers have to make difficult choices on which different technology platform to pick that supports their requirements," said Burley Kawasaki, senior vice president of products at Kony. "Kony MobileFabric is the first of its kind to considerably reduce this complexity by delivering an open, standards-based and unified mobile infrastructure platform regardless of their mobile development needs."
(Related: How PaaS has evolved so far)
The product launch marks a shift to more loosely coupled architectures in mobile apps, according to Al Hilwa, analyst at IDC.
"As organizations start getting strategic with mobile application development, they are thinking in a somewhat more decoupled manner about their front ends on the devices and their back-end systems," he said. "They are building back ends in line with new API architectures to handle not just mobile devices, but a brave new world of [Internet of Things] devices that need to engage with the enterprise."
With MobileFabric, organizations can reduce the time it takes to get enterprise mobile apps to market, spend less time on app development, lower total cost of ownership, and get open native and multi-platform support, according to the company.
"MobileFabric sits in between your mobile app and your back-end enterprise systems and helps create a layer that loosely couples mobile 'edge' applications," said Kawasaki. "This allows you to rapidly innovate and update apps at the edge at a faster pace of agility than you would typically do with your internal LOB systems."
Other features include an open set of RESTful services; offline sync capabilities; and a multi-tenant and elastic fabric for cloud apps built on a natively cloud-based infrastructure.
More information is available here.