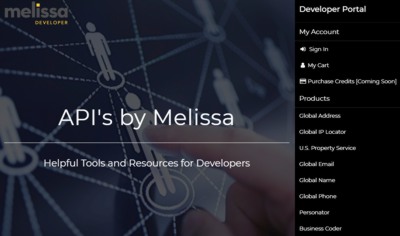 Melissa has announced the availability of Melissa Developer, a comprehensive portal with APIs to integrate data cleansing and enrichments that will speed up application development.
Because the resources are scalable, it allows developers to add capacity and features that ensure long-term application performance. The APIs support REST, JSON, XML, and SOAP technologies. The portal can handle real-time processing ideal for web forms and call center applications that include batch processing optimized for database cleanup.
"Melissa Developer reflects our commitment to global data quality across the broadest range of enterprise applications and platforms," said Bud Walker, vice president of enterprise sales and strategy at Melissa. "By streamlining developer tools and resources into an easy-access portal, we are increasing focus on data quality performance and easing long-term application scalability."
With this, developers can integrate location-based operations that include verifying and standardizing both U.S. and international addresses, validating geolocation of IP addresses; and property and mortgage data enrichments for more than 140 million U.S. properties.
For businesses, services include identity verification that allows users to pinpoint potential risks that a customer may represent. This can also verify, standardize, update, and enrich contact data which includes global emails, phone numbers, and consumer and business names. Enrichments can tap into Melissa's multisource dataset of over 25 million US business records which include SIC/NAICS, sales volume, number of employees, and more.