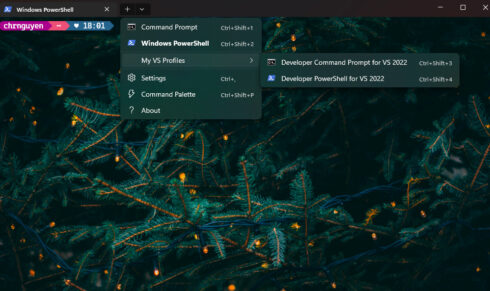 Fans of Windows Terminal now have a new preview release to enjoy. Windows Terminal is a terminal application that offers features like multiple tabs, panes, Unicode support, and custom themes. 
The Windows Terminal preview is now at version 1.17 and Windows Terminal has been updated to version 1.16. 
As a reminder, new features in 1.16 included the introduction of themes to customize the look of the terminal, new default colors, and a new text rendering engine.
One of the new features being introduced in version 1.17 is the ability to customize the dropdown menu. Folders, separators, and profiles can now be added, and they can be arranged in any way. 
There is now a keyboard shortcut to restart a process or close its window after termination. To close the window, use Ctrl+D, and to relaunch it, use Enter. 
Users can also now utilize Mica as a background material for Windows 11 users. Mica incorporates your desktop wallpaper and theme to add another level of personalization to your terminal. 
The team also updated the Color Schemes page so that when you click on a color scheme it brings you to the edit scheme page. 
A number of updates have also been made to Virtual Terminal as well as usability and accessibility improvements. 
More information about this release can be found in Microsoft's blog post about the release.