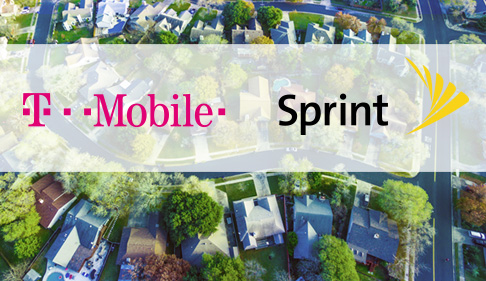 Sprint has launched Sprint Secure Wi-Fi, which is an app that automatically encrypts data transmitted over unsecure Wi-Fi networks. According to the company, the app turns on when it detects a Wi-Fi connection that isn't secure and turns off when it disconnects from that network.
After Sprint announced this app, it also announced on Sunday its plans to merge with T-Mobile. According to a statement from T-Mobile, the two companies want to merge so that they can advance 5G technology. They believe that together they can create a 5G network much faster than either of the companies could have separately.
"This combination will create a fierce competitor with the network scale to deliver more for consumers and businesses in the form of lower prices, more innovation, and a second-to-none network experience – and do it all so much faster than either company could on its own," said John Legere, CEO of T-Mobile. "As industry lines blur and we enter the 5G era, consumers and businesses need a company with the disruptive culture and capabilities to force positive change on their behalf."
"Going from 4G to 5G is like going from black and white to color TV," said Marcelo Claure, CEO of Sprint. "It's a seismic shift – one that only the combined company can unlock nationwide to fuel the next wave of mobile innovation."
Guy Carpenter & Company releases a new cyber-risk modeling platform after collaboration with CyberCube
Guy Carpenter & Company has announced that its two year partnership with CyberCube Analytics has resulted in a cyber-risk modeling platform that uses an inside-out view of risk exposure. Guy Carpenter & Company has also entered into a formal agreement with CyberCube in order to leverage CyberCube's stochastic cyber catastrophe model and other intellectual property.
"Cyber is one of the most important risks facing society in the 21st century and therefore it is one of the most important risks facing the insurance industry," said Pascal Millaire, CEO of CyberCube. "Our strategic alliance with Guy Carpenter over the past two years, coupled with continued interactions with their cyber practice, has deepened our understanding of the specific needs of the insurance/reinsurance cyber market, uniquely positioning CyberCube to help insurers underwrite cyber risk and model cyber aggregation in a way that no one else can."
SentryOne to acquire Pragmatic Works Software
SentryOne has announced it is acquiring Pragmatic Works Software. The acquisition will allow SentryOne to provide broader coverage of database systems. SentryOne's solutions will now include powerful capabilities for Microsoft SQL Server, SQL Server Analysis Services (SSAS), SQL Server Integration Services (SSIS), and SQL Server Reporting Services (SSRS).
"To date, SentryOne solutions have focused primarily on optimizing production assets already deployed to the data center or cloud," said Greg Gonzalez, founder and Chief Technology Officer of SentryOne. "However, good design and performance start on the developer's desktop. PWS solutions shift us far to the left in the development lifecycle, enabling SentryOne to deliver an unrivaled end-to-end capability for DBAs, developers, DevOps, BI professionals, and compliance managers alike."