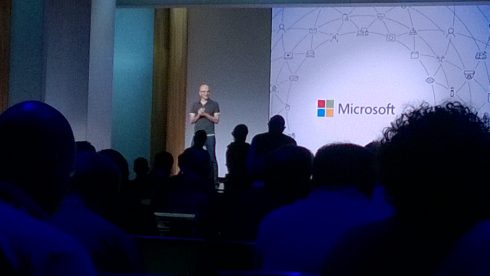 SEATTLE – Microsoft today doubled down on its efforts regarding AI, the intelligent cloud and the intelligent edge by announcing at its Build conference here a host of new developer tools for building these modern applications and systems.
In his opening keynote, Microsoft CEO Satya Nadella said that by 2020, there will be more than 20 billion connected devices, proving that "the world is a computer." With that, he noted, comes a responsibility to instill trust in the areas of privacy, cybersecurity and through "ethical AI."
To that end, the company today announced a five-year, US$25 million commitment aimed at harnessing the power of AI for people with disabilities. The AI for Accessibility program will offer seed grants, deeper technology investments and the opportunity to work with Microsoft to gain expertise.
Meanwhile, those connected devices will be gathering mountains of data that needs to be processed close to the device so as to not be reliant on constant connectivity to the cloud. This is what Microsoft is calling the intelligent edge.
For developers, Microsoft announced it is open sourcing its Azure IoT Edge runtime, and that the Custom Vision Azure Cognitive Service will run on Azure IoT edge. The service can identify issues through visual imagery, making it possible for drone photography or images from industrial equipment to be analyzed on the edge for quick response to critical issues. Microsoft announced two partnerships – one with drone manufacturer DJI to create an SDK for Windows 10 PCs that will enable flight control and real-time data transfer; and with Qualcomm to create a vision AI developer kit that will run Azure IoT Edge for developing camera-based solutions.
Another key announcement today is Project Kinect for Azure, will the company said will be available next year. The project is a package of sensors and cognitive services with "onboard compute" to improve insights and operations.The company also announced updates to Azure Cognitive Services, Azure Cosmos DB, the Bot Framework and previewed Project Brainwave for deep neural network processing on Azure and the edge.
In the area of tooling for modern development, the company announced Azure Kubernetes Service (AKS), designed to simplify how developers create and run container-based solutions. It will also run in Azure IoT Edge. AKS, the company said, integrates with tools for CI/DC, networking, monitoring and more via the Azure portal. previewed Visual Studio LiveShare, which allows developers to collaborate, edit and debug with remote members in real time and in their existing tools, and Visual Studio IntelliCode, an AI tool that provides suggestions to developers to improve the quality of their work.
Finally, Microsoft today announced that Visual Studio App Center is available on GitHub, to allow its users to create mobile apps for iOS, Android and Windows. And a new Azure Blockchain Workbench helps developers to build out an Azure-supported blockchain network using such services as Azure AD and SQL.
As Scott Guthrie, executive vice president at Microsoft, said in a press briefing, Microsoft is answering the question of "how developers can build [applications] today for the rapidly evolving future."