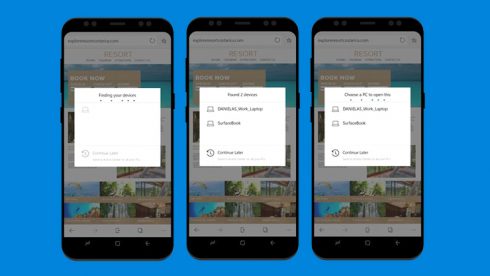 Microsoft has released its Windows 10 April 2018 Update, with a focus on productivity improvements so that users can utilize their time better.
This update makes communication better with a new feature called My People. With My People, users can pin the people they communicate with most to the taskbar for easy access. They can then drag and drop files directly onto that contact in the taskbar to share content with them.
Microsoft is also trying to create a more seamless experience when switching from using the PC to mobile. Users can now send websites, searches, and articles from Android devices and iPhones to their PC using the new Continue on PC app. It also added a Microsoft Launcher app to provide users with one-click access to apps such as Office.
With this update, users will be able to shut down, restart, or put their computer to sleep using Cortana voice commands. For users with a compatible eye tracker, they will be able to control the mouse, keyboard, and text-to-speech features just with their eyes.
Microsoft has also made several improvements to security in this update. Windows Defender now has more specific safeguards to protect against malicious apps and threats, such as WannaCry. It also enables your PC to receive the latest threat definitions from the cloud. It also will allow users to scan their devices for threats in real-time.
The update also features an improved Photos app, Mixed Reality Viewer, a new Game Mode, the ability to write in eBooks and fill out PDF forms from within Microsoft Edge, and a feature that can tell you where you last used pens on your computer to make it easier to find lost pens.