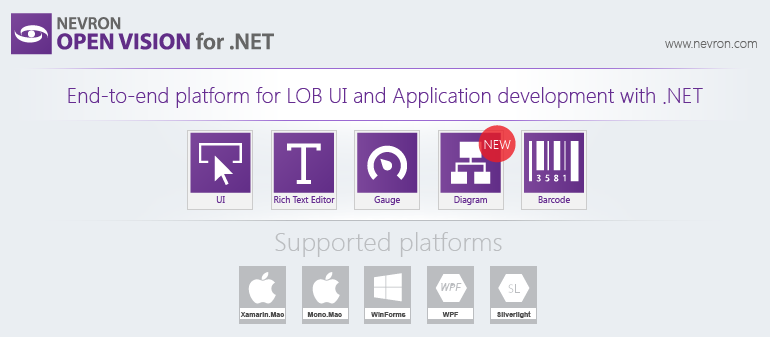 .NET developer tool provider Nevron Software has announced the official release of Nevron Open Vision 2015.1, its cross-platform component suite for .NET application development.
The Open Vision 2015.1 release adds a new NOV Diagram for .NET framework, enabling developers to create diagramming solutions in WinForms, WPF, Silverlight, Xamarin.Mac, MonoMac and ASP.NET environments. The framework offers features including diagram interaction and editing, smart shapes and automatic layouts.
(Related: The modern Visual Studio tool belt)
Other new features and capabilities in Open Vision 2015.1 include:
• NOV Maps for .NET: Allows developers to import geographical data from the ESRI shape file format into diagrams, supporting 22 projection types and intelligent layer properties.
• New UI controls: A new ribbon control widget giving developers the option to integrate UI features from Microsoft Office such as the popular ribbon feature.
• Text editor updates: Nevron's Rich Text Editor for Open Vision now includes the added Ribbon UI option in addition to the existing command bar UI, along with improved dialogs for border and paragraph editing, improved HTML import and export, as well as DOCX compatibility and performance improvements.
More details about Nevron Open Vision 2015.1 are available here.