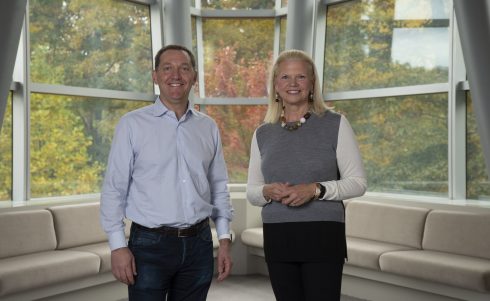 In the largest software acquisition ever, IBM has announced plans to acquire open-source software provider Red Hat for approximately $34 billion. Together, the companies will work to promote and provide an open approach for the hybrid cloud.
"The acquisition of Red Hat is a game-changer. It changes everything about the cloud market," said Ginni Rometty, IBM chairman, president and CEO.
"Most companies today are only 20 percent along their cloud journey, renting compute power to cut costs," she added. "The next 80 percent is about unlocking real business value and driving growth. This is the next chapter of the cloud. It requires shifting business applications to hybrid cloud, extracting more data and optimizing every part of the business, from supply chains to sales."
Red Hat is widely known for its commitment to open source. Its mission is "to be the catalyst in communities of partners and customers and contributors building better technology the open-source way." Open-source software has been in its DNA since it was founded in 1993, offering one of the earliest Linux operating distributions, to creating the Fedora project.
While companies in the open-source space are not surprised that Red Hat has finally been acquired, they are surprised about who acquired them. "This is a bold move by IBM, which might prove to be their best single bet to remain relevant for another few decades," Sacha Labourey, CEO and co-founder of CloudBees, wrote in a blog post. "In this new cloud era, developer mindshare is as important as enterprise mindshare. Bottom-up meets top-down. Developers vote with their feet. In this subtle dance, successful public cloud vendors have been able to get their steps right. IBM on the other hand, while very strong in top-down motions, hasn't been able to really build up developer love. The impact has led IBM to be in the second tier of cloud vendors, along with Oracle, after AWS, Microsoft and Google."
Labourey actually thought Google would eventually acquire the open-source company. "By acquiring Red Hat, Google would have had instant access to a worldwide enterprise salesforce with entry to all CIOs on the globe, and extreme data center credibility. Furthermore, Google and Red Hat product portfolios are amazingly similar. This would have been an instant boost for Google's enterprise credibility and business," he wrote. However, unlike IBM, Google has more than enough "cool" technology and developer support, he explained. Labourey thinks IBM picked up Red Hat for two reasons: 1. For Red Hat's cloud assets and developer community. 2. For Red Hat's open-source business model.
Jim Whitehurst, president and CEO of Red Hat, wrote in a blog post that "when I joined in January 2008, Red Hat was about 2,200 associates and the first open-source software company to earn more than $500 million in revenues. Our portfolio was 'just' Red Hat Enterprise Linux, Red Hat JBoss Middleware, and technologies to manage both. Today, there are approximately 12,600 Red Hatters and we have a portfolio that now spans hybrid cloud infrastructure, cloud-native app platforms, and management and automation. We have barely scratched the surface of the opportunity that is ahead of us."
Whitehurst believes with the power of IBM, the opportunities are endless. "Imagine Red Hat with greater resources to grow into the opportunity ahead of us. Imagine Red Hat with the ability to invest even more and faster to accelerate open source innovation in emerging areas. Imagine Red Hat reaching all corners of the world, with even deeper customer and partner relationships than we have today. Imagine us helping even more customers benefit from the choice and flexibility afforded by hybrid and multi-cloud," he wrote.
Once the acquisition officially closes, Whitehurst stated that Red Hat will still be Red Hat. The company will operate as a distinct unit within IBM, and Whitehurst will report to IBM's Rometty. IBM and Red Hat already have a strong track record of working together. IBM has been an early supporter of Linux, collaborating with Red Hat on developing and growing enterprise-grade Linux. Recently, the companies worked together to bring enterprise Kubernetes and hybrid cloud solutions to customers.
In a media briefing about the acquisition, Paul Cormier, president of products and technologies at Red Hat, stated that the reason for keeping Red Hat as a separate entity has to do with culture and product, but also business. "We need to and will remain Switzerland in terms of how we interact with our partners," he said. "We are going to do the right thing for the business and customer in terms of where we steer our products."
The main motivator for the move is to succeed in hybrid cloud and open technologies, explained Arvind Krishna, senior vice president of hybrid cloud for IBM. According to IBM, 80 percent of business workloads are still waiting to move to the cloud. The obstacle standing in their way is the proprietary nature of the cloud market, preventing portability and data security for multi-cloud environments, the company explained.
The  new acquisition aims to address hybrid multi-cloud adoption with new ways to create cloud-native business apps and and a consistent cloud management solution. "Today's announcement is the evolution of our long-standing partnership," said Rometty. "This includes our joint Hybrid Cloud collaboration announcement in May, a key precursor in our journey to this day."
In addition, the companies will continue to support Red Hat's partnerships with major cloud providers such as AWS, Microsoft Azure, and Google Cloud.
"IBM's commitment to keeping the things that have made Red Hat successful — always thinking about the customer and the open source community first – make this a tremendous opportunity for not only Red Hat but also open source more broadly," said Cormier. "Since the day we decided to bring open source to the enterprise, our mission has remained unchanged. And now, one of the biggest enterprise technology companies on the planet has agreed to partner with us to scale and accelerate our efforts, bringing open source innovation to an even greater swath of the enterprise."
Cormier also noted that there will be no impact on Red Hat's maintained open-source projects. "I don't intend to do anything different," he said. "For us, it is business as useful." The deal is still pending, but Cormier foresees no changes. "We build our roadmap based on what customers are asking for." Krishna added that IBM has no plans to interfere with that. "Red Hat is a powerful brand in open source, Linux, containers, etc.," he said. "Brands are really hard to establish, and it takes a lot of time, energy and authenticity to keep a brand. Red Hat as a brand is going to keep going for as long as I can foresee."
"I have a lot of respect for Red Hat's policy to open source all the software they sell. I expect that policy to continue," added Sid Sijbrandij, CEO of GitLab. However, he finds it "paradoxical that that highest price ever paid for a software company was for a company that open-sourced 100% of what they build and purchased."
Cormier explained that IBM is spending $34 billion on an open-source company. "That means they are not buying IP. They are not buying technology. They are buying people. I think that is a testament to that level on investment on how important it is to maintain the culture that has made Red Hat the value that it is at today."