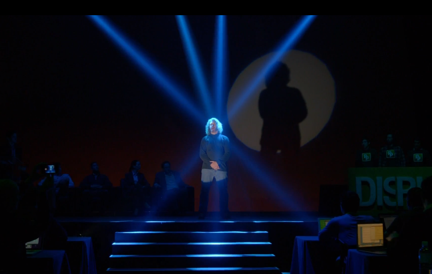 "Gentlemen, welcome to the big show," Erlich says as the Pied Piper team walks down "startup alley" at TechCrunch Disrupt.
Episode seven serves as part one of "Silicon Valley's" two-part season finale, putting the pieces in motion for Pied Piper's big moment to end in colossal public failure. A well-shot cutaway between Nucleus and Pied Piper's "burndown charts" is a good barometer of how the projects are going. The Nucleus chart is displayed on a sleek mounted monitor in a state-of-the-art Hooli computer lab, and Pied Piper's chart is scribbled haphazardly on a whiteboard.
Peter Gregory's assistant Monica calls Disrupt a "vortex of distraction," and in episode seven, "Proof of Concept," everyone is distracted by something.  Richard, Dinesh and Gilfoyle are still working on the demo for Pied Piper's big presentation, but when Richard runs into a woman he "totally was NOT obsessed with" in college, he gets a wee bit sidetracked.
(Last week on "Silicon Valley": The gang gets lost in the cloud)
In a peculiar series of events like something out of a modern episode of "Seinfeld," Richard stalks the woman's Instagram account online "to make sure she's not telling people I'm obsessed with her," then accidentally projects her photo on the auditorium big screen for everyone—including her—to see. Then Jared inadvertently convinces the woman that he and Richard are homosexual life partners, solving the problem so Richard can get back to work.
Mike Judge channeled Larry David this episode, and it was gold, Jerry! Gold!
The vortex of distraction also sucked in Gilfoyle and Dinesh, who in their weekly subplot both end up helping the same girl write Java code for her app. Dinesh falls in love with her over "this Java method that was the most beautiful thing I've ever seen in my life. Elegant, tight, there's just something so hot about a woman that can code like that." Except of course, Gilfoyle wrote the code. Poor Dinesh.
But in the most ridiculous distraction of the week, the one that actually sabotages pretty much any chance of Pied Piper winning anything at Disrupt, is Erlich. Upon finding out he once had an affair with the wife of one of the judges, he sets out to discover whether the judge is aware. It's a fact-finding mission that leads to Erlich sleeping with the judge's newly married second wife, too. Bravo.
"Proof of Concept" also devotes plenty of time to exploiting the "startup battlefield" location to make sure everyone knows just how utterly ridiculous startup culture can be. But first, quick hits on some of the episode's can't-miss startup concepts:
• Spinder: It's Tinder but for spinsters
• Our friendly neighborhood terrible doctor (Andy Daly) reappears to tell us about Panic-a-Tech, a device linking to your smartphone that lets you know if you're having a panic attack or heart attack. But wait, there's more! It can track your vitals via Bluetooth suppository.
• Human Heater: Microwave technology that heats a person's skin instead of heating your house. It may be beaming cancer directly into your body, but at least you'll dramatically lower that utility bill.
Once the startup battle actually kicks off, a cavalcade of timid programmers wearing matching t-shirts are paraded onstage to talk about how their startups will "revolutionize" the industry and "make the world a better place" with whatever software development jargon their platform is founded on (see Odds & Ends for a full jargon rundown).
Don't forget about SoLoMo, or Social-Local-Mobile, the one acronym every startup has in spades. Or is it LoMoSo, or MoLoSo? Judge relentlessly lampoons the BS and buzzwords defining startup culture. For him, herds of programmers at a tech conference are like shooting fish in a barrel. The barrage of throwaway jokes at TechCrunch Disrupt's expense even outshines the episode's actual story.
That is until Erlich—clad in his jet-black Steve Jobs turtleneck—steps onstage to a swell of music and several bright spotlights only to be promptly tackled by said cheated-on judge, with whom Erlich has slept with not one, but two of his wives.
We should be in for an entertaining finale.
Odds & Ends
—Software jargon watch: Each startup giving their flowery introduction threw a ton of programming lingo at us in the span of a few minutes. The sure-fire ideas that will "make the world a better place" are: reporting mobile bugs, location-based mobile news aggregation, algorithms for consensus protocols, software-defined data centers for cloud computing, data models to communicate between endpoints, and last but not least, scalable, fault-tolerant distributed databases with ACID transactions.
—In Hooli's Nucleus lab, the brogrammers follow after Gavin in a v-formation, giving him a status report on their competing algorithm. They're like ducks tagging along after their mother.
—Richard throws up out the car window on the way to Disrupt, which brings his vomit count on the season to three.
—Gilfoyle's pimp slapping of the micro drone buzzing around the show floor is just begging to be a GIF.
—The micro drone also has some fun harassing a frazzled, out-of-sorts and even paler than usual Jared, who's holding down the Pied Piper booth a day after getting back from being stranded on Gregory's private mechanical island. Jared's saddest of all the sad sacks routine has really grown on me.
—Big Head makes a brief appearance to let Richard know that since he's flush with sitting-around-doing-nothing money, he's buying a boat… and a boat guy to take care of it. "You have to have a boat guy."
—How does the show account for Peter Gregory's absence from the conference (due to actor Christopher Evan Welch's abrupt passing during shooting)? Of course, send him on a safari with Lorne Michaels and Kanye West.
—No new episode next week thanks to Memorial Day, but check back in two weeks for our recap of the season finale of "Silicon Valley."