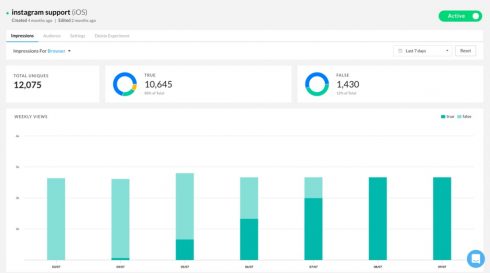 The organic feature delivery company Rollout.io has announced the preview release of Rollout Visibility, a new solution designed to give organizations access to the status of feature deployment in real-time.
According to the company, this will allow them to make smarter business and technical decisions.
Rollout Visibility is able to provide customers with complete visibility, flexibility, and agility for monitoring all aspects of feature deployments to ensure that it meets KPIs. This results in "organic feature delivery," which is when features behave like dynamic organisms, evolving independently, the company explained.
"We've heard countless stories from organizational leaders that features they believed were released to a certain user group, in fact, were not. The ability to gradually release features and roll them back if they don't perform as expected, is critical to true agile deployment," explained Erez Rusovsky, CEO and co-founder of Rollout.io.
According to Rusovsky, many customers start off with one or two feature flags, which then grows into tens or hundreds. Once the subset a users a features is deployed to is added to the equation, you are looking at hundred of permutations of deployments.
"With Rollout Visibility, we've taken our already powerful feature delivery platform and added a real-time dashboard so that engineers, developers and product managers never have to wonder if a feature is truly rolled out, or if it is just a phantom feature caught in limbo," said Rusovsky.
Other features include flag dependency, remote configuration and feature management, and enterprise-grade security and privacy.