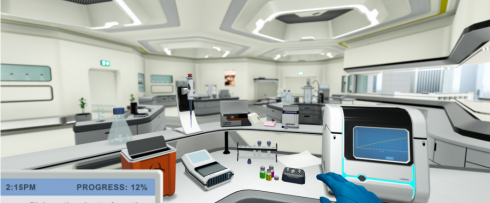 Google is making lab time more accessible for STEM students with the introduction of more than 30 virtual labs on the Daydream platform. Google partnered with science education provider Labster to provide these labs, which will enable students to do lab work without needing to be on a campus.
According to Google, the VR courses will be especially useful to students and faculty in online programs. Students will be able to perform tasks that would normally need to be done in a lab, such as examining organisms using a microscope or sequencing DNA. They will also be able to do things not possible in the physical world, such as seeing and manipulating DNA at the molecular level.
"Through its ability to take people anywhere, virtual reality can be a powerful resource for students who otherwise would not have access to the lab time they need to complete their degrees," Courtney Hampson, program manager of Google AR & VR, wrote in a post.
Armory announces a $10 million Series A funding round
Armory has announced a $10 million Series A funding round, bringing the company's total funding to $14 million. Armory aims to help organizations deploy with "safety, velocity, and sophistication" with the help of its Spinnaker platform that was originally open sourced by Netflix and Google.  The round was led by Crosslink Capital with participation by Bain Capital Ventures, Javelin Venture Partners, Y Combinator, and Robin Vasan.
"Spinnaker is the emerging standard for sophisticated multi-cloud deployments, with support across leading cloud vendors and a robust, rapidly growing community," said Daniel R. Odio, CEO of Armory. "That's why we're investing in Spinnaker to power the Core of Armory's platform, which helps software teams ship better software, faster."
Armory hopes the new funding will help it expand its continuous integration and continuous delivery platform to the enterprise.
Microsoft reveals DoWhy library for causal inference
Microsoft has announced a new library called DoWhy. DoWhy provides a programmatic interface for causal inference. It was designed to highlight the often neglected assumptions that underlie causal inference analyses.
The motivation for creating the library is that in causal inference studies, Microsoft found themselves repeating common steps of finding the right identification strategy, devising a suitable estimator, and conduction robustness checks, the company explained.
Microsoft designed the library following two principles: making causal assumptions explicit and testing the robustness of estimates when those assumptions were violated.
Hortonworks adds news tools and updates to existing platforms
Hortonworks has announces innovations that will enable customers to get insights on data generated at the edge.
It has announced Streams Messaging Manager, which is an open-source operations monitoring tool that offers end-to-end visibility in enterprise Kafka environments.
The company also released a new version of Hortonworks DataFlow, 3.2. The new version makes operations simpler, provides stronger integration and interoperability between Hortonworks DataFlow and Hortonworks Data Platform 3.0, and improves performance for data-in-motion in hybrid environments, it explained. Key features include enhanced platform resiliency, more granular control, increased performance, and consistent management for Hortonworks DataFlow and Hortonworks Data Platform.