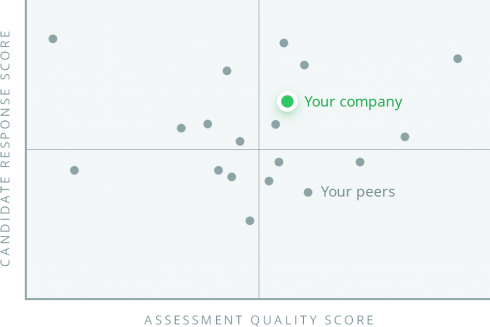 HackerRank today announced a new machine learning solution designed to help companies in their software development hiring process. The HackerRank Tech Talent Matrix uses ML to provide companies the proper data on software developer candidates. It analyzes more than 150 million assessments and candidate data points in order to provide insights into technical recruiting efforts and increase chances of finding the right software developer for the job.
"Companies lack basic visibility into their developer hiring process, which is now just as big a priority as revenue and customer retention for executives across every industry," said Vivek Ravisankar, CEO & co-founder of HackerRank. "We power one assessment every eight seconds on our platform, and have built a deep, unparalleled data set on what makes for a great candidate experience. Pairing machine learning with our experience and data, we're arming businesses with the actionable intelligence they need to make smarter technical hiring decisions and ultimately transform into tech companies."
The matrix will provide a candidate response score to measure an organization's candidate outreach performance, and a assessment quality score to measure the quality of companies' assessments.  
eBay open-sources head motion technology for iPhones
eBay announced HeadGaze, a reusable technology library for tracking head movement through iOS apps, is now available on GitHub. HeadGaze was developed as part of an internship project within the company and uses Apple ARKit and the iPhone X camera to track head motion.
According to the company, this type of technology could be used to scroll through a recipe without using greasy fingers to touch the phone, following how-to-manuals while trying to fix something messy like a car engine, or if it is too cold to remove your gloves in the winter to use your phone. The team will also be looking into tracking eye movements and fusing the experiences together.
Android 9 power improvements
Google is continuing its effort to improve battery life in its latest Android operating system and beyond. Past efforts have included Job Scheduler in Android 5.0, Doze and App Standby in Android 6.0, Doze improvements in Android 7.0 and background limits in Android 8.0.
In Android 9, Google is expanding on these improvements with a focus on helping developers build cool apps, making those apps power-efficient and not having to both users with configuring app settings.
"This means that the OS needs to be smarter and adapt to user preferences while improving the battery life of the device. To address these needs, we have introduced App Standby Buckets, Background Restrictions, and improved Battery Saver," Madan Ankapura, product manager for Android, wrote in a post.
Perfecto releases new DevOps professional book
Perfecto will be releasing the Continuous Testing for DevOps Professionals book next week at Jenkins World in San Francisco. This is Perfecto's second book, and was created in collaboration with CloudBees, Tricentis, Testim.io, test.ai and various industry thought leaders.
The book will provide a definitive guide to implementing success continuous testing initiatives throughout DevOps pipelines. Profits from the book will be donated to Code.org whose mission is to expand access to computer science in schools. In addition, the book will include fundamentals of continuous testing, continuous testing for web apps, continuous testing for mobile apps, and the future of continuous testing.