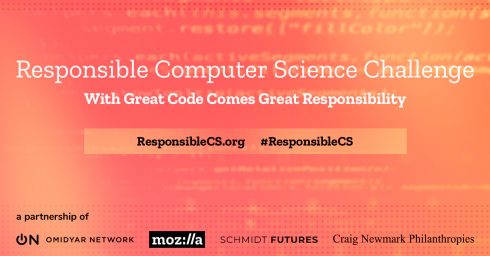 Mozilla is calling on professors to integrate ethics into computer science courses and has announced a competition called the Responsible Computer Science Challenge. As part of the challenges, professors will work to conceptualize, develop, and pilot curricula that integrates ethics with computer science, and hopefully scale that to universities across the country. The challenge is a joint effort between Mozilla, Omidyar Network, Schmidt Futures, and Craig Newmark Philanthropies.
"In a world where software is entwined with much of our lives, it is not enough to simply know what software can do," said Kathy Pham, computer scientist, Mozilla Fellow, and co-leader of the challenge. "We must also know what software should and shouldn't do, and train ourselves to think critically about how our code can be used. Students of computer science go on to be the next leaders and creators in the world, and must understand how code intersects with human behavior, privacy, safety, vulnerability, equality, and many other factors."
Qordoba raises $11.5 million in funding round
Qordoba has announced $11.5 million in Series B funding. The round was led by Aspect Ventures, with participation from Upfront Ventures, Rincon Ventures, Broadway Angels, and Michael Stoppelman, the co-founder of Yelp.
The funding will be used to accelerate "EQ-AI," which helps computers understand human emotion in text through the use of deep learning models, according to the company.
"Product teams are on the hook to create emotionally resonant app experiences. It's where we spend all of our time as users. But that is very hard to do," said May Habib, founder and CEO of Qordoba. "With Qordoba, our customers see all of their app content in a single place and can predict in real-time whether the copy they write will work for the intended audience."
New Relic acquires CoScale
New Relic has acquired container and microservices company CoScale. New Relic hopes that this acquisition will help them with their goal of helping increase the number of companies that are adopting architectures that use containers and microservices.
"We look forward to the team members' talent, experience, and expertise with monitoring modern software architectures—particularly containers, microservices, and Kubernetes—optimized for large and dynamic production environments. They'll be a great complement to the teams working on New Relic Infrastructure," New Relic wrote in a post.
NuoDB v3.3 is now available
NuoDB has released the latest version of its database. According to the company, NuoDB v3.3 enables the shift that is happening in the industry as a whole towards container-based environments. It adds new container-native features, as well as availability to Red Hat OpenShift Container Platform.
"Scalability, flexibility, and cloud-native are terms that historically were not associated with database technology. Today, that notion is changing rapidly due in part to the traction of distributed SQL database platforms such as ours," said Bob Walmsley, president and CEO of NuoDB. "Our growing global team has never been more committed to helping our enterprise customers achieve the modern data management architecture they so desperately need to succeed, and we are thrilled to be recognized for our ongoing efforts."