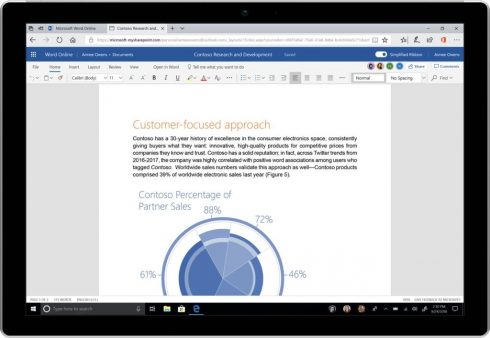 Microsoft wants to provide users with a better experience. The company announced it is redesigning Office 365.  
According to the company, the changes were inspired by changes to work culture and are designed to provide a balance between power and simplicity.
To guide the updates, Microsoft created a set of "The Three Cs," which stand for Customers, Context, and Control. It wanted the changes to be customer-focused and have the software understand the context that the user is working in so that it could present the user with only the features they need in that moment. It also wanted to give users control over what parts of the user interface are visible.
The initial set of updates include a simplified ribbon, new colors and icons, and more powerful search.
Samsung NEXT Q Fund will help startups invest in AI
Samsung NEXT has announced a new startup fund for AI. Samsung NEXT Q Fund will provide Seed and Series A funding to startups that are solving AI problems or using AI to solve computer science problems.
According to the company, the areas it could examine include learning in simulation, scene understanding, intuitive physics, program learning programs, automl, robot control, human computer interaction and meta learning.
Google makes changes to its policy on using non-SDK interfaces in Android P
After announcing it would start restricting the usage of non-SDK interface in Android P three months ago, Google is making a change to that policy. It has realized that there are many reasons apps might want to use non-SDK interfaces.
Many users have explained such use cases through Google's issue tracker and the company has lifted the restriction for most of those requests. It added those instances to a greylist, as well as conducted static analysis, which identified additional non-SDK interfaces that apps rely on, and those have been added to the greylist as well.
NVIDIA to open an AI research lab in Toronto
NVIDIA has announced it will open an AI research lab in Toronto. The company hopes to triple the number of AI and deep learning researchers working in the Toronto office by the end of the year. According to NVIDIA, the lab will expand the footprint of the office by approximately half to accommodate the influx of employees.
The lab will be led by Sanja Fidler, a professor at the University of Toronto. Her main research interests are deep learning and computer vision, with connections to natural language processing.
Amazon announces Alexa Skills Blueprints
Amazon has announced Alexa Skills Blueprints, which allows users to create personalized skills and responses for Alexa. It has released more than 20 blueprints spanning four categories: at home, fun and games, storyteller, and learning and knowledge.
According to Amazon, the Skill Blueprints are currently only for personal use, and not published to the Alexa Skills Store.