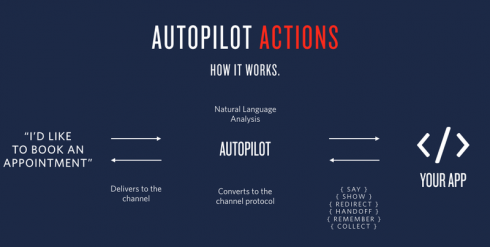 Communications platform Twilio has announced Twilio Autopilot, which is a programmable conversational AI platform that can be used to build custom bots, IVRs, and home assistant apps.
Autopilot was designed to allow developers to write their applications once and deploy them to any support channel without having to write any additional code, according to the company.
"Machine learning is the most transformative technology of our time," said Nico Acosta, director of product and engineering at Twilio. "However, until now, the tools available for building machine learning-powered conversational experiences have been too complex and not optimized for developers, which has led to poor customer experiences. We built Autopilot to make companies successful in building bots that delight users, instead of frustrating them."
Hazelcast releases the first enterprise edition of Hazelcast Jet 0.7
Hazelcast has released the first enterprise edition of Hazelcast Jet 0.7. New enterprise features include a Management Center to provide greater visibility into Hazelcast Jet clusters and a Security Suite with end-to-end TLS encryption, mutual authentication with X509 certificates, and roles-based authorizations over data structures and actions.
Improvements to the open-source edition in the Jet 0.7 release include the ability to dynamically re-scale to adapt to workload changes, more friendly data management, and a new JDBC connector to allow Jet to process data from a majority of databases.
GitHub launches apprenticeship program
GitHub has launched its first ever apprenticeship program. The Octoprenticeship will aim to lower the barrier to entry into tech. Apprentices will work on real GitHub projects and partner with a mentor throughout the program, develop professional skills, and gain additional learning opportunities and resources throughout the program.
"It can be particularly difficult for individuals with non-traditional work and educational backgrounds to find full-time roles. For every computer science graduate we hire, we know there are others who could also make a significant impact at GitHub: people whose work experience is primarily outside of tech and are looking to pivot into the industry; people who have taken time off for caregiving and are coming back into the workforce; and people who don't have a traditional developer or engineering background (perhaps they are self-taught or participated in a coding program," GitHub wrote in a post.
Google reveals new security chip, Titan M
Google has revealed a new security chip that it will include in new Pixel 3 and Pixel 3 XL devices. Titan M is a low-power security module that provides several functions.
Titan M is used to store and enforce locks and rollback counters used by Android Verified Boot, store secrets, provide backing for the Android Strongbox Keymaster module, enforce factory reset policies, and ensure that Google can't unlock a phone or install firmware updates without the user's authorization.
Titan M's processor, caches, memory, and persistent storage are not shared with the rest of the phone's system, blocking side channel attacks such as Spectre and Meltdown.
"As more of our lives are bound up in our phones, keeping those phones secure and trustworthy is increasingly important. Google takes that responsibility seriously. Titan M is just the latest step in our continuing efforts to improve the privacy and security of all our users," the Android team wrote in a post.