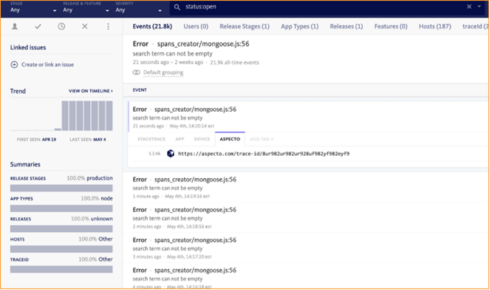 The testing company SmartBear has announced updates to three of its products, with the goal of improving visibility into the software development life cycle.
"We continue to put our customers at the center of our strategies and deliver on their needs by expanding our product portfolio through innovative enhancements to our popular solutions used by millions of developers, testers, and software engineers worldwide," said Dan Faulkner, chief product officer at SmartBear.
The first update is in BugSnag, a developer-focused monitoring platform. Earlier this year the company had acquired Aspecto, which is an OpenTelemetry-based company, and now SmartBear has integrated its distributed tracing capabilities into the BugSnag platform.
By adding distributed tracing to its platform, SmartBear is providing its customers with the ability to monitor errors and correlate them across traces, logs, and metrics to determine the root cause.  
Next up, it launched a developer portal for finding SmartBear APIs within the SwaggerHub Portal, which is a marketplace for finding APIs that the company launched in August. According to the company, this new portal will help companies more quickly get started with SmartBear products.
SmartBear also released updates to the test management solution Zephyr Squad Cloud. New features include a test case library, n-level folder structure for test cycles, reordering of test executions, enhanced test cycle details, and advanced reporting of test execution results. 
"Whether you are a seasoned QA professional, a developer, or a project manager, this update will make your testing process faster, more efficient, and more user-friendly than ever before," SmartBear wrote in a blog post.