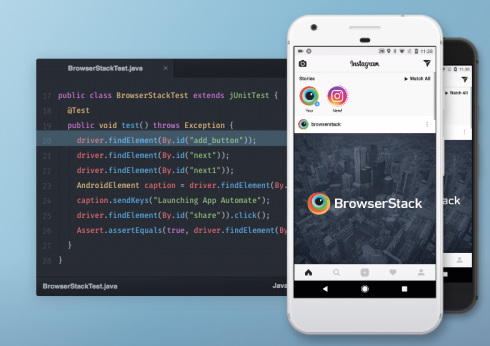 BrowserStack today announced the general availability of App Automate, its automated mobile testing solution that runs on the BrowserStack Real Device Cloud.
App Automate enables users to run automated tests in Appium, with support for the  Espresso Java and Android framework and the XCUITest iOS framework in beta and coming soon. Those integrations will allow developers to test their Android and iOS applications on the more than 1,000 devices – covering every manufacturer as well as every screen size, resolution and operating system – on the company's Real Device Cloud, according to the company's announcement. These are actual devices, not simulators, so developers get feedback on how their applications will work on those smartphones and tablets.
The solution also lets developers test how their applications work using natural gestures and touch actions. "We want to give developers as close to the experience of having the device in your hand" to test such things as tap, swipe, scroll and zoom functionality, Shailesh Rao, BrowserStack COO, told SD Times.
Among the other features of App Automate are real-time debugging, the ability to test both native and hybrid applications, smart app uploading, and the ability to run test concurrently across the myriad devices.
According to Kalpesh Doshi, senior product manager at BrowserStack, automated testing can help to remove the bottleneck of manual testing, enabling organizations to release applications more quickly and reap the benefits of continuous integration and deployment in a DevOps environment. "When engineering teams say testing is a bottleneck, they're referring to manual testing," Doshi said. "Because you're not only testing the code, but you also have to test everything the application touches, every use case, to see that the features are working fine. Automated testing can reduce the time from weeks to hours."
The company in January announced a US$50 million investment from Accel Partners in January and the opening of its North America headquarters in San Francisco.