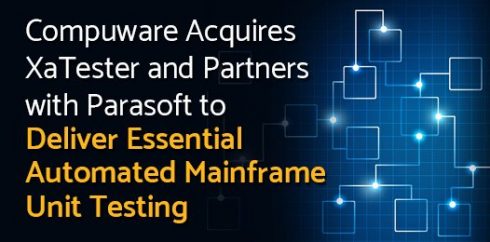 Compuware, a mainframe software tools provider, today announced that it is acquiring XaTester, partnering with Parasoft, and that it is adding new enhancements to Topaz for Total Test.
According to the company, the acquisition of XaTester will allow developers to create unit tests for batch and CICS-based programs in COBOL, PL/I, and Assembler. XaTester is a unit test tool provider for mainframe and IBM i. The company explained CICS is increasingly becoming the transaction processing technology chosen by large enterprise due to its high integrity, performance, and scalability.
"XaTester and Topaz for Total Test are two great and complementary products for automating mainframe unit testing, which is essential to DevOps," said Steen Brahe, senior product manager at Compuware. "The unified tool will leverage the best from both products and fundamentally change how customers create, execute and automate unit and integration tests for mainframe applications."
The company is also partnering with Parasoft to provide integration between Parasoft SOAtest and Topaz for Total Test. According to Compuware, this integration will enable developers that work on mainframe applications to quickly and easily test API calls between mainframe and non-mainframe systems.
"REST and SOAP APIs provide the backbone of today's business-critical applications, especially when these services are used to access the power of the mainframe," said Mark Lambert, VP of products at Parasoft. "Test automation at the API layer is essential to delivering high quality at the speed of Agile and the Parasoft SOAtest plugin for Topaz brings API test automation directly to the mainframe developer, helping ensure the delivery of reliable, scalable and secure services."
In addition, Compuware announced new enhancements to Topaz for Total Test, which will provide automated unit testing for IMS batch and transactional applications. The enhancements will complement Topaz for Total Test's existing support for batch applications written in COBOL and integration with leading cross-platform DevOps tools including Jenkins, SonarSource SonarQube, and Compuware ISPW, the company explained.