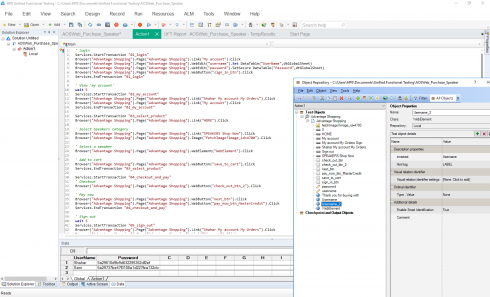 The advent of Agile methodology, DevOps, and emerging technologies like artificial intelligence, robotic process automation and machine learning creates a seismic shift in application testing requirements and test tools. As companies gravitate towards digital transformation strategies, there are more applications and new technologies that require testing at increasingly rapid rates. Key challenges include the elimination of dedicated testing time, meeting new requirements, trying to work more with user-specific testing experiences — whether those be shift left or shift right — and the maturity of the business itself.
When asked to read the tea leaves on the forward direction of the industry, Michael O'Rourke, product manager at Micro Focus, said, "There's more of a branch into the future of the industry that's focused on intelligent test automation, meaning where the user expects the applications to work in any type of environment. They expect more abundance of smart devices and self-healing environments that grow the approaches we currently have for automated testing today. It includes being able to test intelligently, while also dealing with the rapid variation of changes."
As an example, he cited self-healing environments that come into play when customers have issues with a breaking UI change that requires them to stop the test where it is, or go back and modify scripts. This takes time away from their schedule and self-healing environments adapt to those type of breaks.
It's mission-critical for test engineers and QA teams to choose test tools that support their existing environments as well as those on their roadmap.
The omni-channel testing powerhouse
The Micro Focus test portfolio is well-equipped to address these challenges. It's wide-ranging, supports numerous technologies and is expanding its offerings on a frequent basis.
The company's flagship product is Unified Functional Testing (UFT). "The product's our powerhouse with a huge customer base, 40-plus different support technologies, different flexible licensing mechanisms and it's fully integrated with Agile and DevOps methodologies," O'Rourke said.
In late 2017, the company introduced the ability to burst tests out to the cloud with the new Micro Focus StormRunner Functional product. The customer can either design the test in their IDE, or within UFT, then when they run the test, it bursts to the cloud. A couple of cool benefits are that it can save users from dealing with test execution on their local system, and once in the cloud, testers can review tests and run results as they happen throughout the day, providing a managerial view. Also, large organizations that want test information to be in one silo can do that.
Robotic Process Automation
With robotic process automation starting to become less hype and more real, O'Rourke said Micro Focus is moving into the RPA space due to customer demand. He said, "This segues into our adoption of intelligent automation. While it's interesting that most people don't look at a testing product in the RPA space, we've had numerous customers and partners ask us to support RPA and their efforts towards automating extensive scripts and recordings across distributed infrastructures. This is precisely where UFT comes into play in conjunction with our Operations Orchestration tool. Other competitors in the RPA space don't have that functionality or integration."
Micro Focus customers already leveraging their test automation solutions to easily create bots that automate rules-driven business processes, as well as integrating Micro Focus Operations Orchestration to complete actions and automate workflows that link steps to standardize RPA processes.
Getting what matters right
"We often talk about the fact that we want to use these devices to make sure we have the right test coverage, that we're focusing our tests on what's actually being used and what people care about," said Amy Fenwick, Micro Focus product marketing manager. The target for Micro Focus is on delivering those tools that track how the end users are actually using the application, so testers can address test coverage accordingly. O'Rourke said it's about the growth of intelligent testing automation and promises they'll continue to give the customers the tools to be able to build things intelligently into the future.
Learn more at www.microfocus.com.