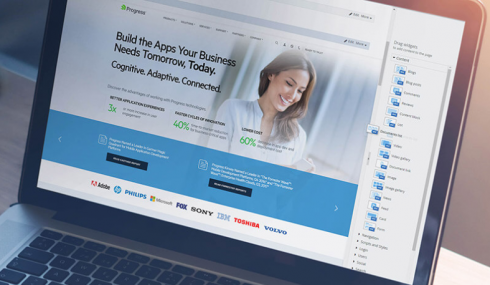 Progress has announced the release of Progress Sitefinity 11, a web experience management solution. The latest release adds a new interface that will enable marketers to be more productive and effective.
In addition, it adds new developer tools and introduces the ability to do one-click deployments, which will help reduce time-to-market for web apps. Progress Sitefinity 11 also features an Angular-based admin panel that enables simplified customization and integration with API services.
Tricentis Tosca 11.2 is released
Tricentis released the latest version of its Tricentis Tosca platform, 11.2. The latest version makes it easier to construct automated tested for S/4 HANA and Fiori 2.0, while also reducing test maintenance overhead.
Integration with Tricentis Flood will allow users to employ existing Tricentis functional test cases or upload test cases from JMeter, Gatling, or Selenium. This will allow customers to more easily integrate their testing into the CI pipeline and identify problems early on in the process.
Finally, it adds test automation support for SAP Success Factor, SAP Ariba, and SAP Hybrid, enabling organizations to reliably test end-to-end business processes.
Google launches Machine Learning Practicum on Image Classification
Google has announced a new interactive course, following the success of its Machine Learning Crash Course in February. The course, a Machine Learning Practicum on Image Classification, will walk students through the basics of how image classification works while learning the building blocks of convolutional neural networks (CNNs). It will then have students build a CNN themselves, learn to prevent overfitting, and utilize pretrained models for feature extraction and fine-tuning.
According to Google, over 10,000 of its employees have already used this course to train their own image classification tools to identify cats and dogs in photos.
Qualcomm's extended reality platform, XR1, is revealed
Qualcomm has revealed a new dedicated Extended Reality (XR) platform called the Qualcomm Snapdragon XR1 Platform. XR1 is intended to provide users with high-quality XR experiences, while also allowing OEMs to build mainstream devices.
XR1 features special optimizations for AR experiences with AI capabilities to provide better interactivity, power consumption, and thermal efficiency.
According to Qualcomm, Meta, VIVE, Vuzix, and Picoare are already working on developing the XR1 platform.
"As technology evolves and consumer demand grows, we envision XR devices playing a wider variety of roles in consumers' and workers' daily lives," said Alex Katouzian, senior vice president and general manager, Mobile Business Unit, at Qualcomm.