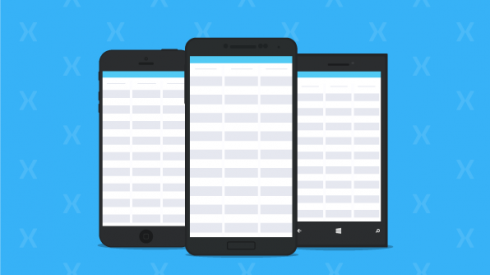 Syncfusion has announced the release of Essential Studio 2018 Volume 1. The highlights of the release include Angular and React for JS 2, new components based on our JS 2 library for ASP.NET Core and MVC, new schedule and maps control for Essential JS 2 suite and new controls for Xamarin platforms and Window Forms.
"Written in TypeScript to be lightweight, responsive, modular, and touch-friendly, the official release of our next generation JavaScript platform, Essential JS 2, is one of the most exciting aspects of this release," said Daniel Jebaraj, Syncfusion vice president. "We have included more than 35 new controls, making it the only JavaScript toolkit developers will ever need."
More information is available here.
Google announces open source game-server Agones
Google has announced a new open source project called Agones. Agones, which is Greek for contest or gathering, is a multiplayer game-server hosting solution built on Kubernetes. 
The project is under development in collaboration with Ubisoft. "Agones is designed as a batteries-included, open-source, dedicated game server hosting and scaling project built on top of Kubernetes, with the flexibility you need to tailor it to the needs of your multiplayer game," Mark Mandel, developer advocate for Google, wrote in a post.
Supernova Cloud released
Supernova is introducing a new collaboration platform for working apps. Supernova is a desktop application that enables users to take a design of an app and convert it from design data into a real app using predictive algorithms. According to the company, this is the first collaboration platform that allows users to present fully working mobile UIs. It uses the same preview engine as Supernova Studio and advanced features are available in the cloud preview.
"As we continue building Studio, Cloud will grow with it," said the company in a blog post. "The underlaying platform of Cloud is built for the future. One day, we hope to have completely working mobile apps running in the Cloud — including integrations with 3rd party services, working API integrations, A/B testing and many more sweet things."
Twilio announces programmable contact center solution
Twilio has announced Twilio Flex, a programmable cloud contact center platform built on Twilio's Programmable Communications Cloud and Super Network. The solution is designed to be developer friendly and offer businesses complete control of their contact center experience. The highlights of the release include supporting an omnichannel experience, ability to programmatically customize any user interface, contextual intelligence, ability to build applications with drag and drop capabilities, and and supports integration with application.
"Hundreds of companies including ING Bank, Zillow, Simply Business and National Debt Relief have built customized contact center solutions using Twilio's communication APIs," said Al Cook, head of the contact center business at Twilio. "With Flex, we are providing a contact center platform that has a point-of-view based on the best practices we've learned, offers options for those who want to get up and running quickly, and gives businesses unlimited flexibility as they design their customer experiences."
HARMAN and Samsung announce IoT partnership
HARMAN has announced an engineering partnership with Samsung SmartThings. According to HARMAN, this will accelerate the transformation to the connected world through cloud, mobility, and analytics solutions. With the collaboration, HARMAN will assist with the SmartThings app, feature development for SmartThings Cloud, integrate third party sensors into the ecosystem, and create roadmap features for hub, core, and embedded components.
"It's more important than ever to be at the cutting-edge of digital transformation and connected devices," said Robert Parker, CTO of Samsung SmartThings. "By partnering with HARMAN Connected Services for SmartThings application and device development, we're able to bring the latest smart device innovations directly to consumers."