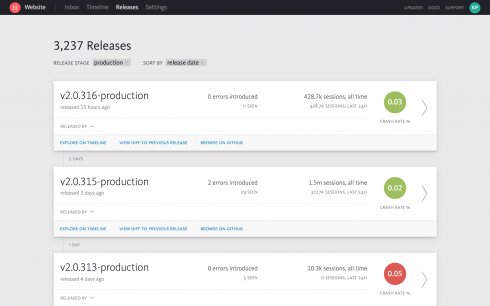 Bugsnag has launched anew Releases dashboard designed to provide teams visibility into their releases. Bugsnag is an error monitoring solution for web, mobile and server apps.
This new dashboard will also enable development teams to put out releases faster and more often, according to the company. It has a crash rate indicator to show the percent of sessions that crashed, and enavles teams to track the health of releases across all platforms.
Google's PageSpeed Insights will obtain data from the Chrome User Experience Report
Google has announced that PageSpeed Insights will now obtain data from the Chrome User Experience Report. PageSight Insights gives developers information on how well pages adhere to best practices. Getting information from the Chrome User Experience Report will allow it to make better recommendations to developers, according to Google.  
Renault-Nissan-Mitsubishi launches new venture capital fund
Automotive alliance, Renault-Nissan-Mitsubishi, has announced the launch of a new venture capital fund called Alliance Ventures. It will invest up to one billion dollars in open innovation over the course of five years. In its first year, it is expected to invest $200 million in "start-ups and open innovation partnerships with technology entrepreneurs focused on new mobility, including vehicle electrification, autonomous systems, connectivity and artificial intelligence."
"Our open innovation approach will allow us to invest and collaborate with start-up companies and technology entrepreneurs, who will benefit from the global scale of the Alliance," said Carlos Ghosn, chairman and chief executive of Renault-Nissan-Mitsubishi. "This new fund reflects the collaborative spirit and entrepreneurial mind-set at the heart of the Alliance."
Adobe releases a security update to address vulnerability
Adobe has released a security update for Adobe Flash Player for Windows, Macintosh, Linux, and Chrome OS. According to the company, "the update addresses an important out-of-bounds read vulnerability that could lead to information exposure." The vulnerability was reported through Trend Micro's Zero Day Initiative.