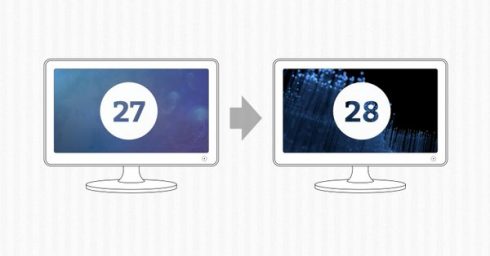 Red Hat has announced the latest release of the open-source Linux-based OS for developer desktops, Fedora 28. Fedora 28 features Fedora 28 Server, Fedora 26 Workstation and Fedora 28 Atomic Host. The Fedora 28 base package features updated compilers and languages as well as the latest versions of the GNU Compiler Collection 8, Golong 1.10 and Ruby 2.5. In addition, it features a modular repository for providing software and updates with alternative versions from the default release.
Fedora Server introduces the Modularity initiative and support for 64-bit ARM. Fedora 28 Workstation includes GNOME 3.28, Thunderbolt 3 connection support, and improved battery life. Fedora Atomic Host comes with Kubernetes 1.9 and new features for orchestrating container-native workloads.
"The Fedora Project's mission is to bring leading-edge innovation to our users, and Fedora 28 offers that through the addition of some of the latest open source technologies including GNOME 3.28 and Kubernetes 1.9. Additionally, with the introduction of the new modular repository, Fedora 28 users are provided with more control over their environments through the ability to choose the right speed for various updates based on their unique needs," said Matthew Miller, Fedora project leader.
MIPI Alliance announces new embedded debugging solution
The MIPI Alliance has announced the availability of the MIPI System Software Trace (MIPI SyS-T). This is a common data format that transmits software trace and debugs information between a test system and a device which includes system-on-chip (SoC) or platform.
According to the company, this is available for developers and provides an accompanying example implementation library accessible via GitHub.
"MIPI SyS-T addresses a very real need in the debug and test industry for a universal data format that alleviates fragmentation and provides a convenient, vendor- and OS-agnostic solution for developers across the embedded software ecosystem," said Joel Huloux, chairman of MIPI Alliance. ""By providing the MIPI SyS-T example implementation as open source through GitHub, our goal is to spur adoption of the specification in the developer community and, ultimately, broaden the reach of MIPI Alliance."
Microsoft announced Azure SQL Data Warehouse Compute Optimized Gen2 tier
Microsoft has announced the availability of Compute Optimized Gen2 tier of Azure SQL Data Warehouse. According to the company, it is designed to deliver fast insights and accelerate query performance and concurrency.
"Customers now get up to 5 times better query performance, 4 times more concurrency, and 5 times higher computing power compared to the current generation. It can now serve 128 concurrent queries from a single cluster, the highest of any cloud data warehousing service," Rohan Kumar, corporate vice president of Azure Data, wrote in a blog post.
In addition, the company also added Transparent Data Encryption with customer-managed keys in order to keep user data in control.
Fitbit and Google announces new collaboration
Fitbit has announced it will be collaborating with Google to improve digital health and wearables. Fitbit will use Google's Cloud Healthcare API that connects user data with electronic medical records. By combining Fitbit data with EMRs, this can provide patients and clinicians a better view of the patient's profile, according to the company.
"At Google, our vision is to transform the way health information is organized and made useful," said Gregory Moore, vice president of healthcare for Google Cloud. "By enabling Fitbit to connect and manage key health and fitness data using our Google Cloud Healthcare API, we are getting one step closer to this goal. Together, we have the opportunity to deliver up-to-date information to providers, enhancing their ability to follow and manage the health of their patients and guide their treatment."
Amazon to create 2,000 new technology jobs
Amazon has announced plans to expand its Boston Tech Hub and create an additional 2,000 technology jobs in fields including machine learning, speech science, cloud computing, and robotics engineering. The teams in Boston mainly focus on Alexa, Amazon Web Services, and Audible.
"Amazon is excited to create 2,000 more jobs in greater Boston," said Rohit Prasad, Amazon's, vice president and head scientist of Amazon Alexa, who is based in the Boston area. "In just a few years, we've grown from a handful of software developers and scientists to a team of more than 1,200, inventing new capabilities and products on behalf of millions of customers around the world.