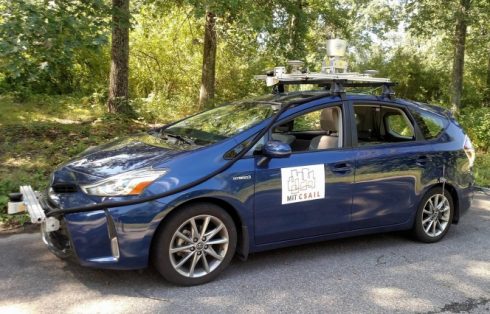 Researchers at MIT's Computer Science and Artificial Intelligence Laboratory (CSAIL) have developed MapLite, a new framework for self-driving cars that allows them to drive on roads they've never been on before without the use of 3D maps.
The current self-driving cars being tested on the roads are only driving in major cities, where they have data on the exact 3D positions of lanes, curbs, and stop signs, the company explained. The MapLite framework will allow for self-driving vehicles to drive on less frequented roads, according to the researchers.
"At the end of the day we want to be able to ask the car questions like 'how many roads are merging at this intersection?'" said Teddy Ort, a CSAIL graduate student who was a lead author on a related paper about the system. "By using modeling techniques, if the system doesn't work or is involved in an accident, we can better understand why."
Qwil announces new platform for quickly paying freelance developers
Qwil has announced a new way to pay freelance developers that will cut down on the time it takes them to get paid. Its new Fuel for the App Economy features instant payments and immediate access to accrued earnings.
It charges a small transaction fee to withdraw money, rather than a large percentage of your earnings like some platforms do, the company explained.
"In the app world, a few big platforms comprise an oligopoly that exerts its control by taking a large piece of the pie on a per sale basis and sending the remains to developers on stiflingly slow net 15/30/60+ payment cycles. This 'law of the land' greatly hinders potential growth by reducing a dev's ability to reinvest profits at an ideal pace without resorting to external financing, which is never a fun prospect. We're passionate about doing our part to diminish this industry standard on the part of platforms whose payment terms are reminiscent of delivering a check across the country via the Pony Express in 1865," the company wrote.
Qt for Python will be available soon
The first preview of Qt for Python is about to be release. Qt development is used to extend classes to adapt them to a developer's needs. For an example of how Qt for Python can be used to build a simple application, visit their website.
Nokia acquires SpaceTime Insight for its IoT portfolio
Nokia has acquired SpaceTime Insight in an effort to expand its IoT portfolio and IoT analytics capabilities. SpaceTime Insight's machine learning models are able to predict asset health to a high degree of accuracy. This results in cost and risk reduction, increased operational efficiencies, and reduced service outages.
"Adding SpaceTime to Nokia Software is a strong step forward in our strategy, and will help us deliver a new class of intelligent solutions to meet the demands of an increasingly interconnected world," said Bhaskar Gorti, president of Nokia Software. "Together, we can empower customers to realize the full value of their people, processes and assets, and enable them to deliver rich, world-class digital experiences."